Kim Leuenberger's top 5 travel memories of 2018
Kim Leuenberger's top 5 travel memories of 2018
Leica SL – 90mm Ireland, Kerry - July 2018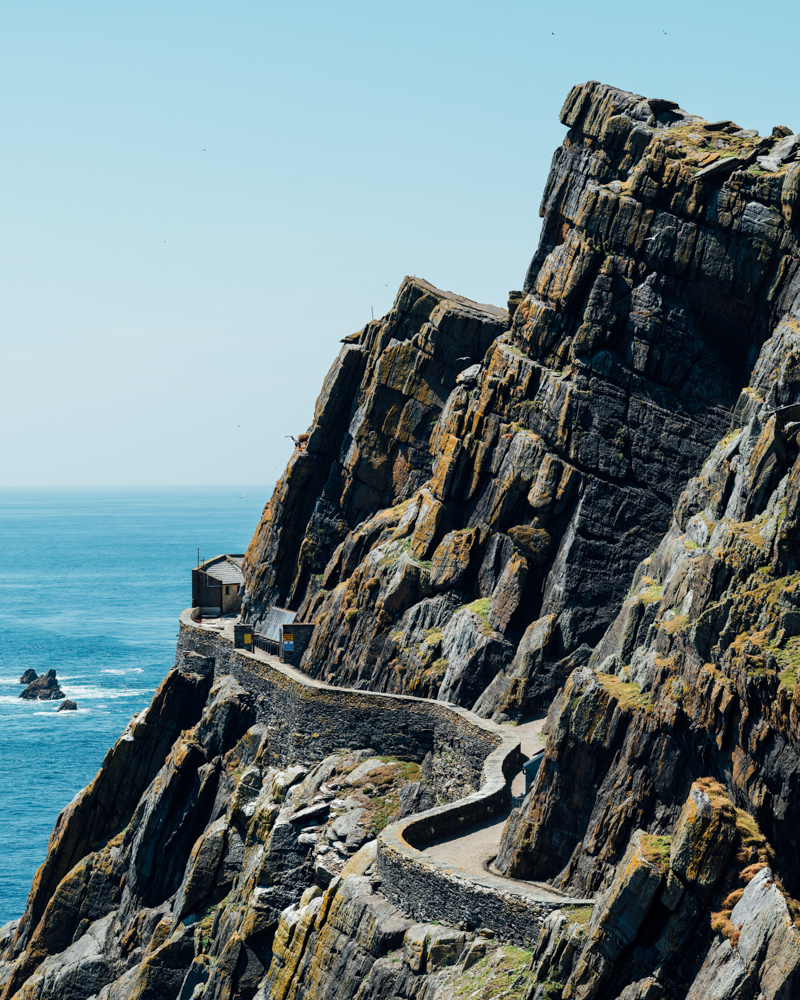 An hour's boat journey from the coast of Valentia Island in County Kerry stands this little rock formation called Skellig Michael, whose history goes back hundreds of years.
The Wild Atlantic Way's weather can usually be quite treacherous making it difficult to access, but fortunately for us (and by us I mean me and my motion-hating stomach), we were greeted by the most perfect conditions – a glassy sea and no clouds on the horizon.
With my trusted Leica Q and a Leica SL hanging around my neck, I hiked up the steep staircases that bring you to the monastery at the top of the island; my eyes always at the ready in case some puffins were out to play.
I stopped probably every minute or so to capture another photograph, alternating between the Q and the SL with a 90mm lens which allows me to focus on details in the distance.
My attention was so fully immersed in the scenery and the beauty that was unfolding before my eyes that my travel companions were increasingly worried about my notorious clumsiness, relentlessly shouting at me to watch out and gasping at my every step. But we all made it up and down and back to the boat in one piece (although I did fall in the parking lot, but that's for another story).
The legendary beauty of Skellig Michael was not a myth and it truly is one of the most spectacular places I've gotten the chance to visit.
Leica MA - 75mm Kodak Portra 160, USA, California - August 2018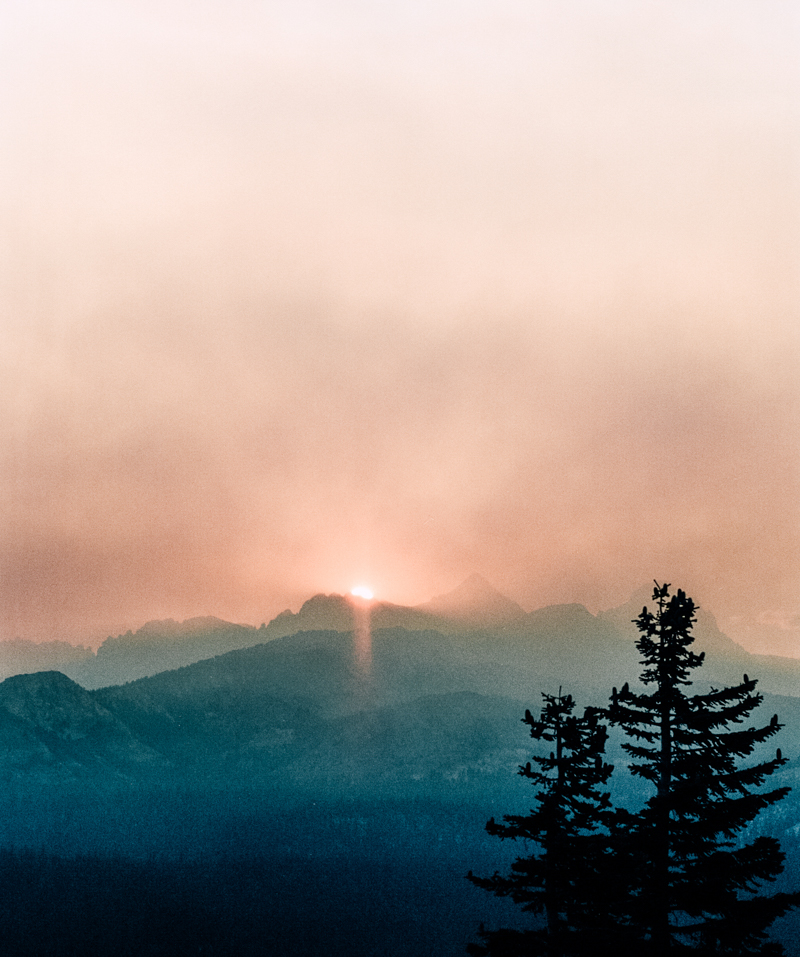 I drove all around California last August where I witnessed first-hand how powerful and resilient nature can be.
I landed in San Francisco and made my way down Highway 1 which had just reopened after some landslides resulted in the legendary road's longest closure to date. Following on, I made my way from San Luis Obispo to the Death Valley with the thermometer peaking at 52°C, before making my way north on the US-395 towards Mammoth Lakes.
As I was driving, I could see some dark clouds hovering above my final destination of the day, and I couldn't help to wonder what was happening. As soon as I got there, it was all the locals were talking about. Yosemite Wildfires had been raging for a few weeks already and the smokes were fast approaching the town.
After dinner and after seeing how the sky was seemingly "on fire", we rushed and drove off to Minaret Vista for the sunset. The fire on the other side of the mountains had just been contained by the amazing work of the firefighters who tirelessly fought the flames and risked their lives to preserve the unique nature and wildlife of the Yosemite.
I grabbed my Leica M-A that was loaded with some Kodak Portra 160 and captured the mesmerising colours of the sky. I was so thankful to have an analogue camera with me as film captures the subtle nuances in the sky so perfectly.
It was probably one of the most memorable sunsets I've ever witnessed. The layer of smoke created a screen in which the sun beams refracted, bathing the whole mountain range in a soft peach light that you just couldn't take your eyes off. It did feel apocalyptic but also peaceful, and it was just pure beauty. As if to say, "it does get better, don't you worry".
Leica Q, Finland, Lapland - September 2018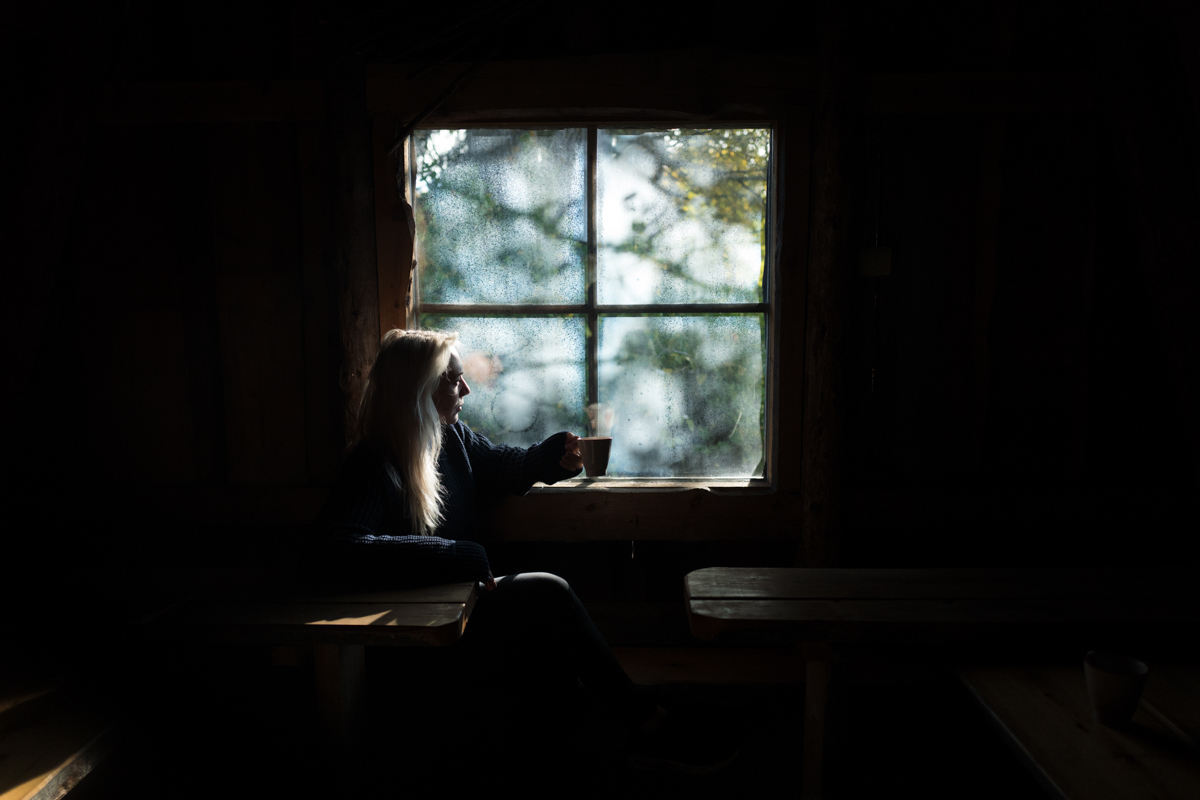 At the beginning of last September we went to Lapland to celebrate the beauty of Ruska. Ruska is what the Finns call their autumn, or more precisely, the moment where the leaves turn to their warmest colours.
Autumn has always been my favourite season; I've always cherished and impatiently awaited the arrival of the cold crisp air, that crackling sound the leaves on the ground make when you step on them, and not forgetting the long-awaited return of the simple enjoyment of hot beverages by the fire, wrapped up warm in blankets.
And Lapland does autumn pretty perfectly.
After having spent most of our days outside until then (and me spectacularly if not rather unsurprisingly, managing to tear my ankle on our way to see some bears in the wild the day before), we were invited into this beautiful little 'kota'. We gathered around the fire as our host began to tell us all about the tales and legends attached to this place.
She had us all hooked to every word that she said and once she had finished her stories, everyone followed her out of the kota. But I stayed back, for a little while longer.
I didn't want to leave. Somehow, I was completely entranced and obsessed with the beauty of this window, at the other end of the little wooden cabin. The wind was blowing outside, and the leaves were dancing along to the most beautifully orchestrated choreography. My travel companions who were probably worried that I had fallen again (those never-ending tales of my inherent clumsiness will follow me to the grave) had to come back down to look for me.
I showed Alice the window, what I had seen that had made me stay back. It was so simple yet so attractive, and I think that she got herself caught in this pure moment of magic.
Leica Q, Switzerland, St Moritz - October 2018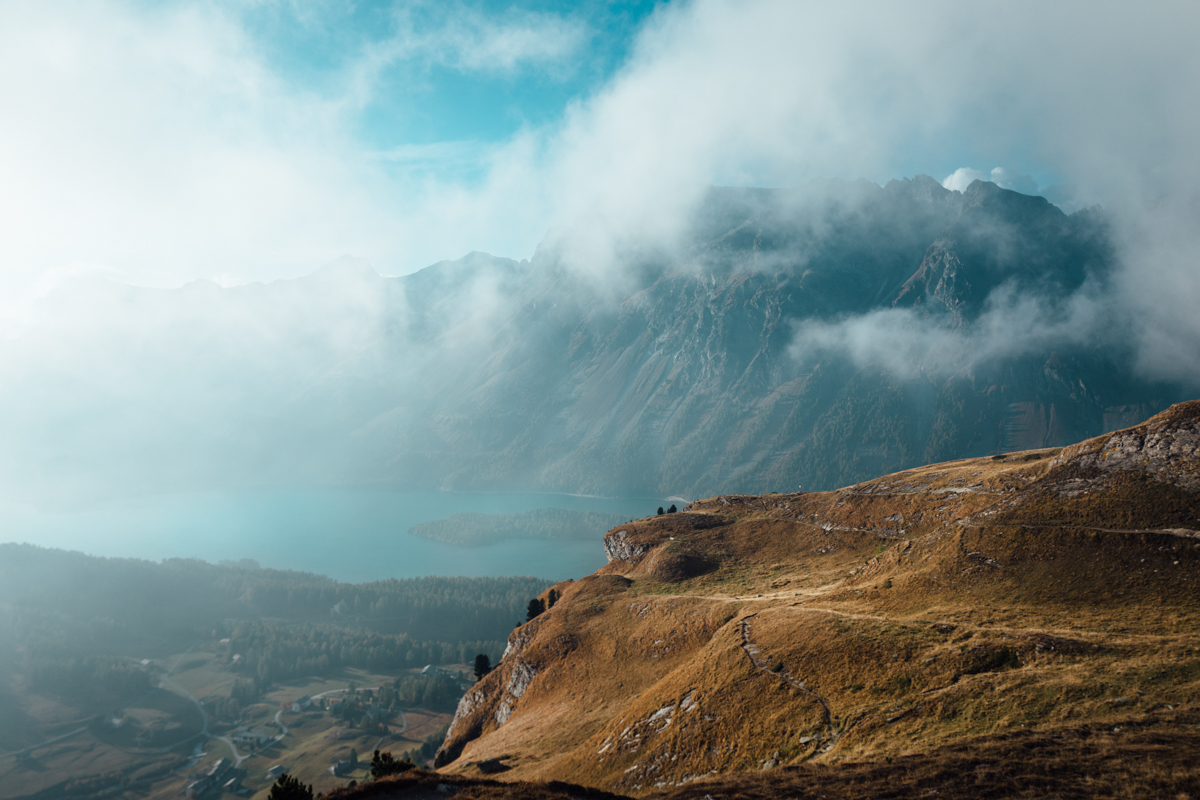 This day was one of those days that I'll always remember.
After having spent most of my year travelling abroad, it was time to go home and rest. Except that I don't really do "rest" well.
I took my little motorbike (she's called Bichette) on an unexpected tour of Switzerland, going to some of my favourite places from my childhood, visiting friends and relatives, from my native Jura to the opposite side of the country, the Graubuenden. There, I met with some of my closest friends for a little 4-day photographic tour of the beautiful Engadin.
We took-off pretty early that morning to go to Lej da Staz, a little alpine lake close to St-Moritz and we witnessed the most beautiful misty atmosphere at sunrise – we were giddy with excitement at all the amazing pictures we had captured! It couldn't really get any better than this.
But, unbeknownst to me at the time, it actually did.
As we got back to our hotel, the clouds started to build a screen above the little town of Sils where we were staying. Suddenly, the tiredness of a full week of adventuring and chasing the sun at sunrise and sunsets everyday caught up with my travel companions and I.
We started acting a little lazy, blasé and felt doubtful we'd get anything more beautiful than what we'd already captured in the morning. We wanted to stay in so bad that evening. But spurred on by our "FOMO" (AKA fear of missing out), we carried our tired little bodies to the gondola and up to the Furtschellas we went.
And I'm so glad we did.
That walk up the spine of the mountain, just above the clouds that lead to the viewpoint over the lakes was filled with giggles and laughter. The tiredness had completely vanished, and that crazy idea to just not go and rest seemed like a distant memory. We had filled our bags with our favourite snacks and drinks, sat down on a rock, and stared at the clouds flying fast underneath us. We were in another world. And at that time I was so thankful that our curiosity to capture photographs with our cameras will always beat that sometimes irresistible call of laziness. We captured a few photos, but mostly, we just looked at the amazing scenery with our eyes. Then as the last few rays of light were starting to die down, we walked back down in the foggy forest at dusk.
My legs were aching for days afterwards, but the memories from this day will always be worth all the muscle ache in the world.
Leica M10, Japan, Tokyo - December 2018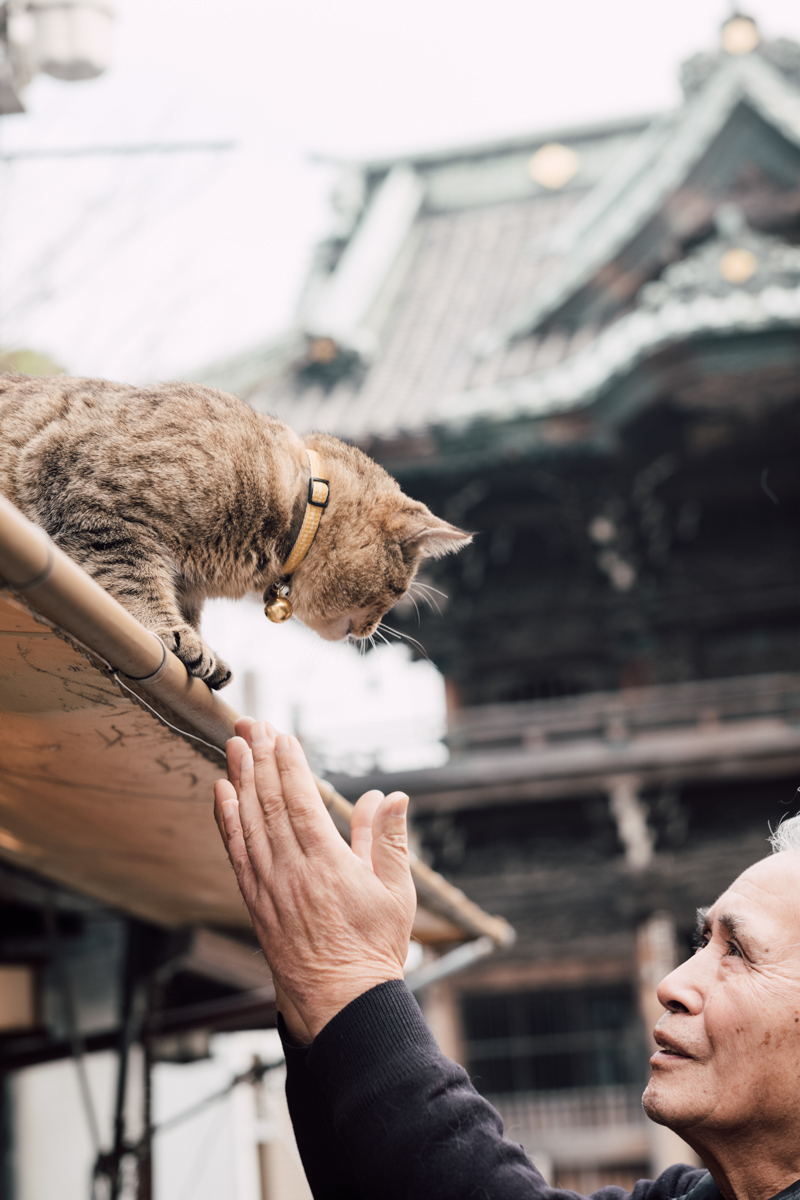 I went to Japan for the first time last December and the best way to describe this experience is a word in my native French which stayed at the back of my mind continuously as I explored this incredible land. The word "Dépaysement" suddenly took on a brand new meaning for me. This feeling of the joy exploring somewhere brand new and so different from what you're used to. As soon as I landed, I'd been in awe of everything surrounding me and the feeling never wore off. My attention focused on closely inspecting all the details of every single situation I found myself in, my mind only connected to my eyes and hands and the rest of my body just following along. It felt as if the events were unfolding in a film and not in real life. But maybe, (most likely), it was just an unexpected after-effect from the lack of sleep and the jetlag.
We were walking the streets of Shibamata, a neighbourhood basked in a serene nostalgia, when I spotted this cat jumping on the storefront, looking at us just before the entrance to the temple. I focused my M-10 and the 75mm on the cat, just before the shop owner went to grab it, as he thought we wanted to capture a portrait of the grumpy animal, and it made for the perfect scene to capture.
When I'm travelling, I always have my cameras out hanging around my neck, in case an expected scene unfolds before my eyes. It's always the scene that precedes the obvious shot that everyone expects you to capture that ends up being the most interesting to me.
I like my cameras to be the silent and unseen witnesses to the everyday beauty of the world.
See more of Kim's work here.