Photojournalist Sean Sutton in Ukraine
Our latest blog post documents the work of friend of the store and Manchester photographer Sean Sutton, who travelled to Ukraine with the Mines Advisory Group (MAG) earlier this year.
"Sean has worked with the Mines Advisory Group (MAG) for 25 years and has travelled constantly documenting the humanitarian impact of war, especially landmines and unexploded munitions and other deadly remnants of conflict as well as the solutions that MAG and other agencies provide.
His photographs have been widely published, he has received a number of awards and exhibitions of his work have been held all over the world."
Below we have shared a collection of his photographs and stories from Ukraine of the people he met there who are trying to recover from the destruction on their lives and homes.
To see more of Sean's photography and the work that MAG does please follow the links at the bottom of the page. 
Lviv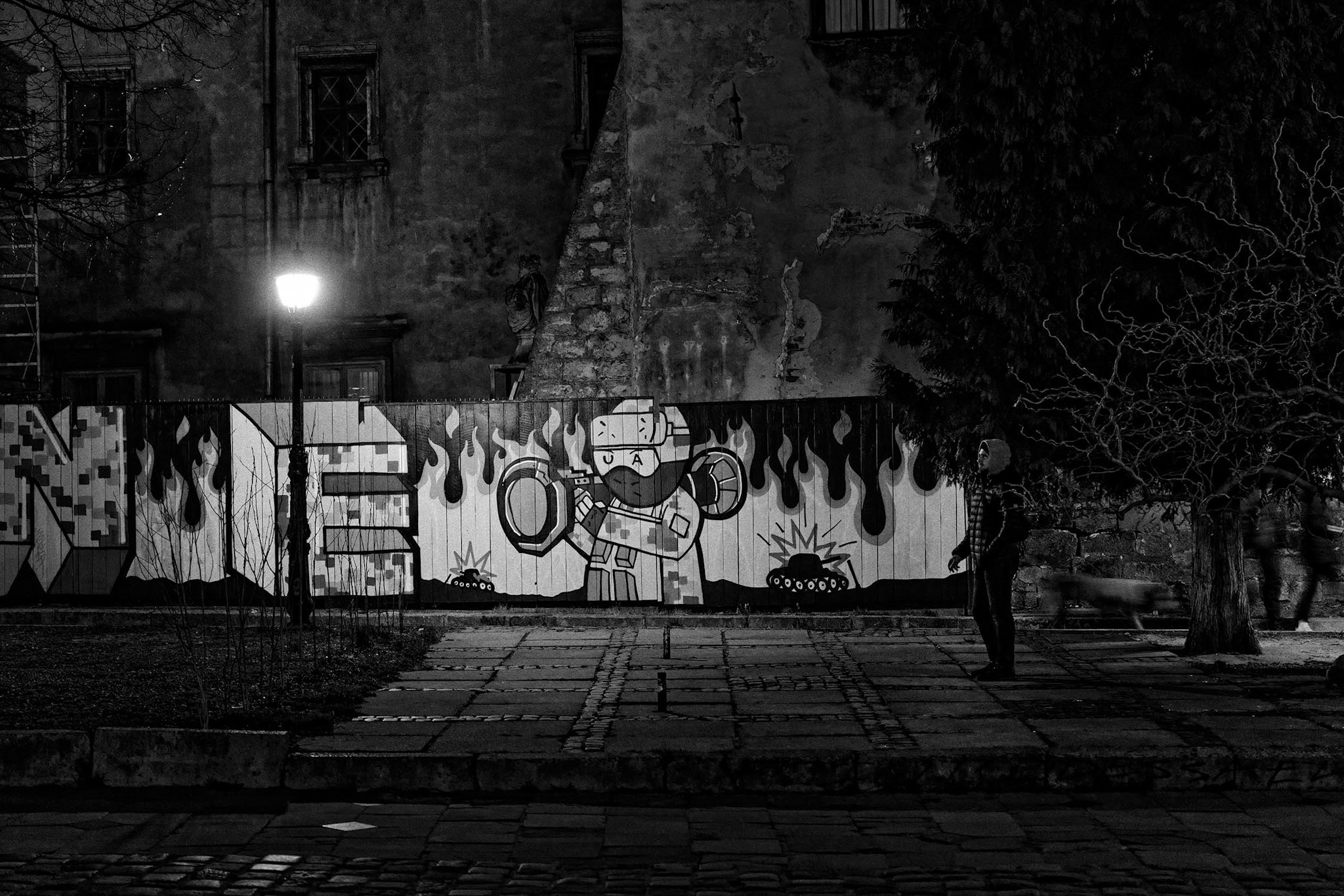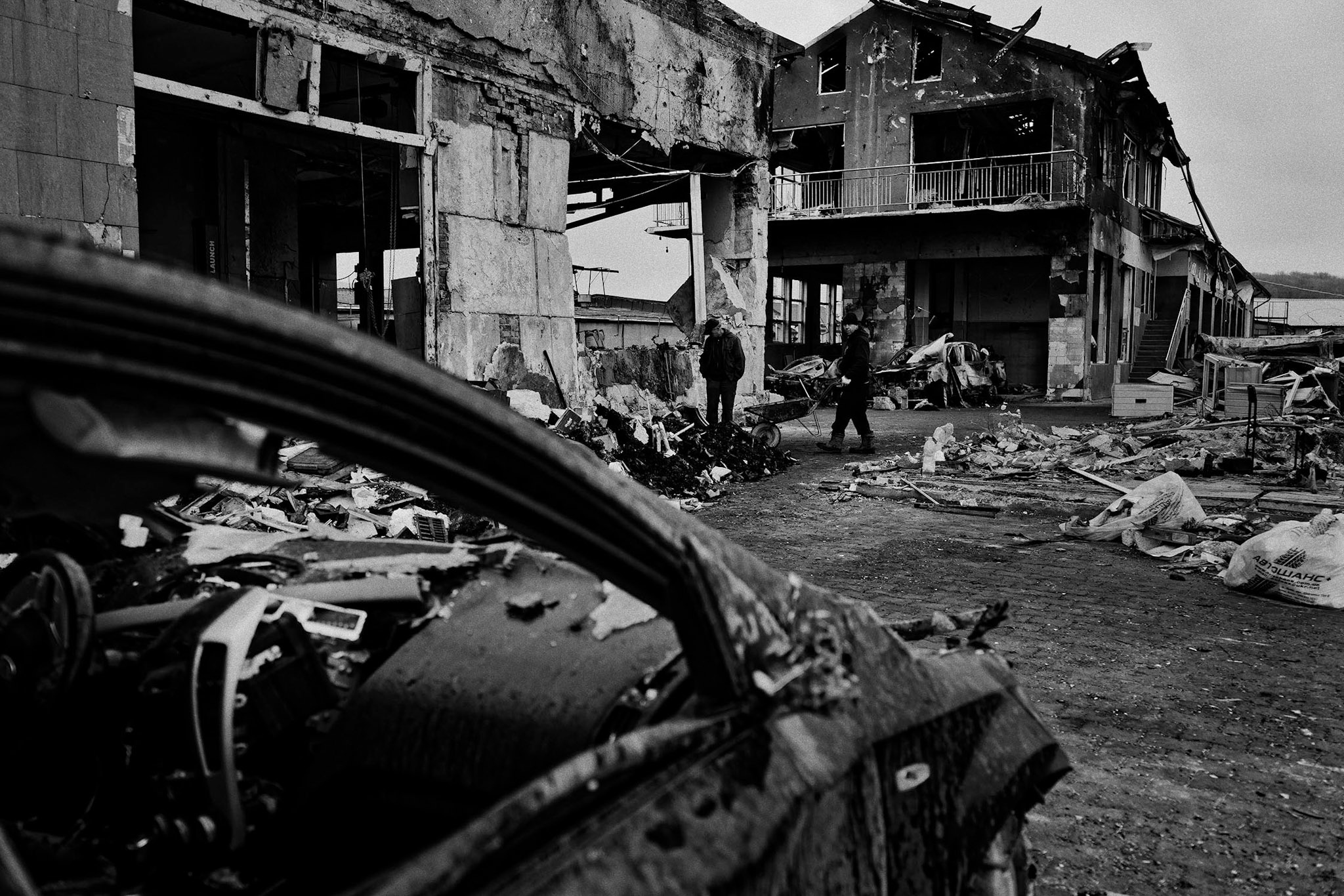 002 Lviv Sean Sutton©                                                                      003 Lviv Sean Sutton©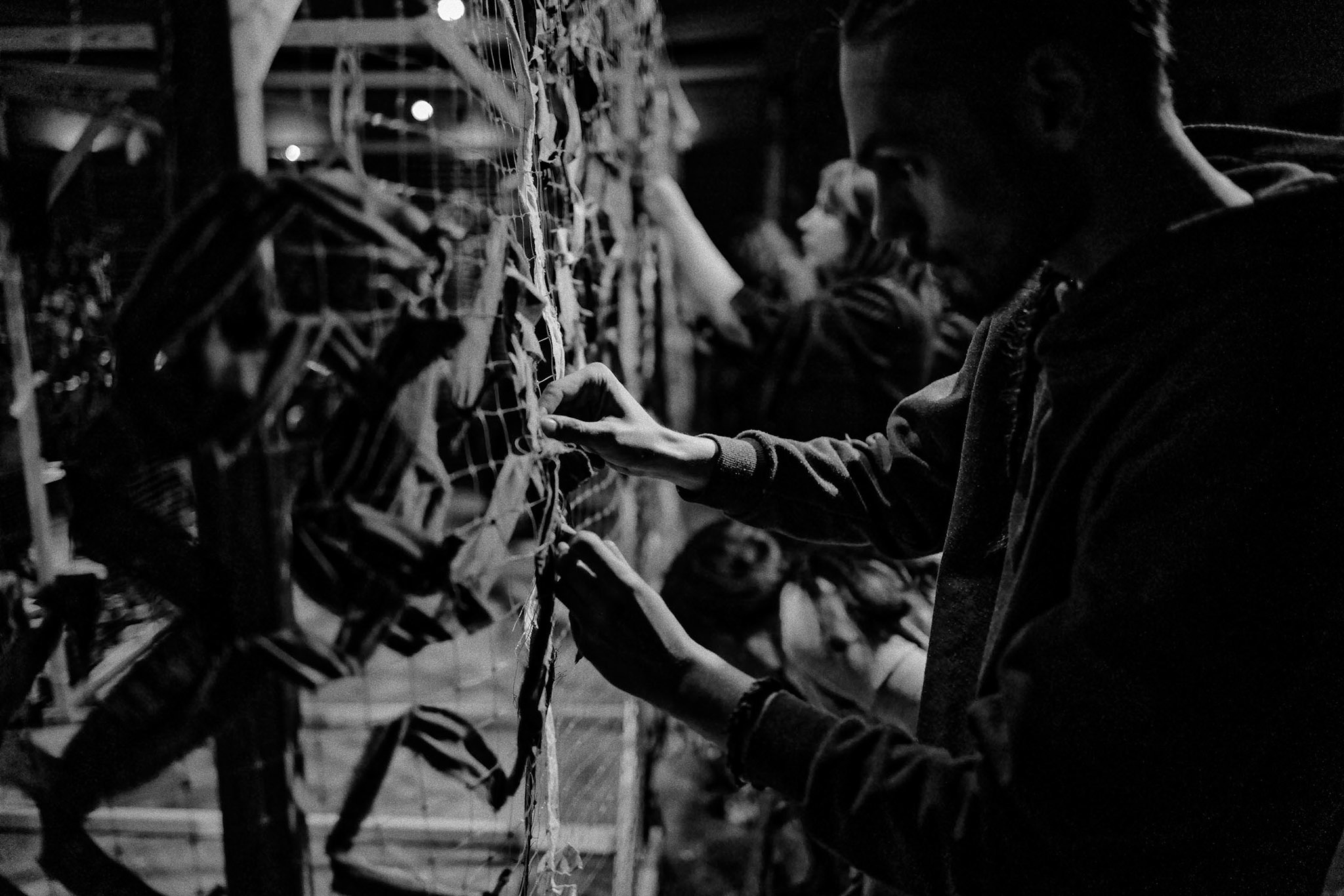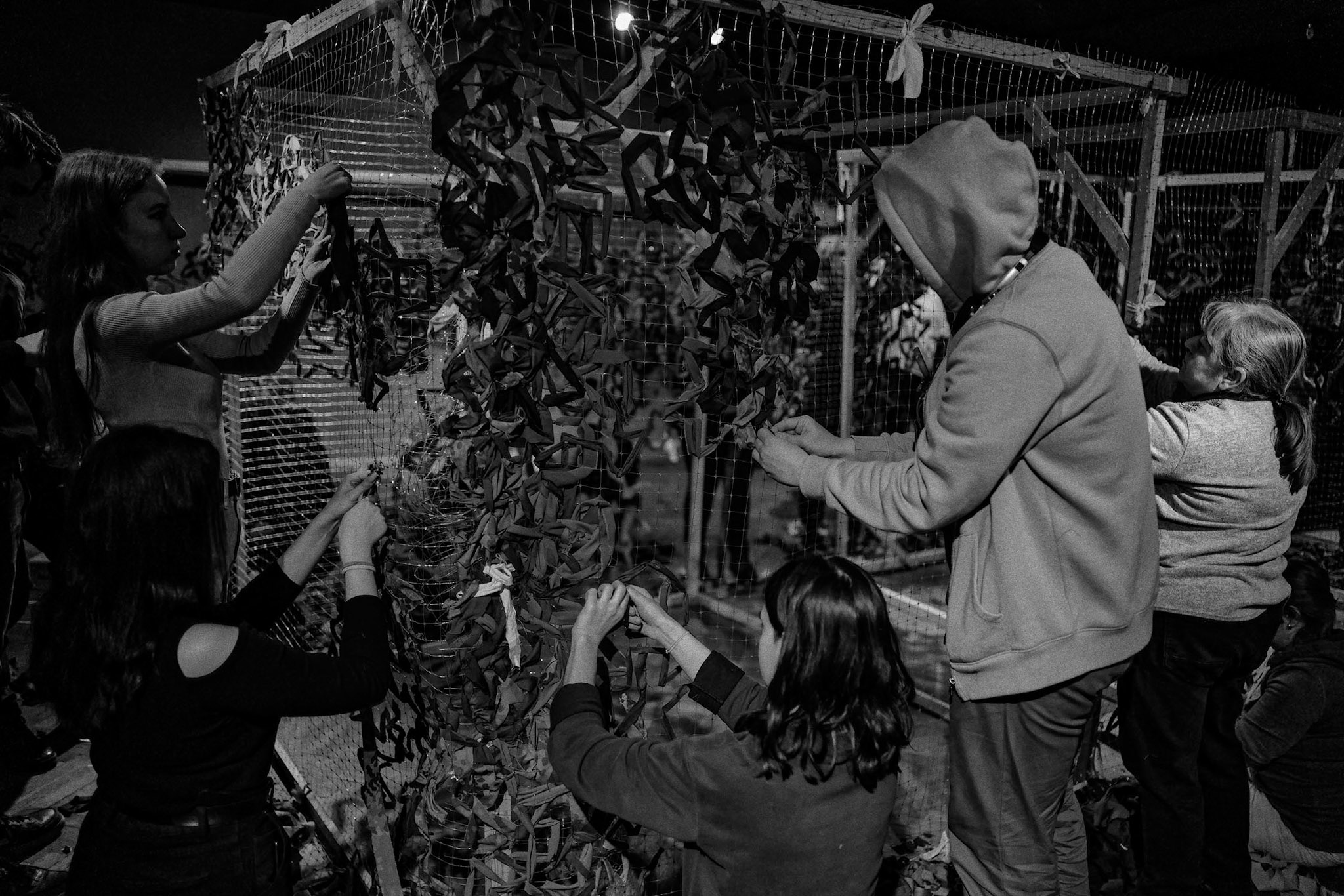 005 Lviv Sean Sutton©                                                                       004 Lviv Sean Sutton©
Graffiti celebrating the success of the Javelin anti-tank missile in Lviv.
On the 18th April, seven people were killed when four cruise missiles hit Lviv. Three were killed at the car repair shop shown as they sat together drinking coffee before they started work in the morning. 
Volunteers make camouflage netting in a converted museum. Two nets were sent to Zaporizhzhia yesterday and more will be sent to Mariupol. One of the coordinators called Mykola said that the museum has had up to 300 people a day coming to donate time and weave the nets: "People want to do something to help. This is also good therapy for all of us here, it helps us to deal with this situation. Sometimes for grief too- yesterday a couple was here who had just lost a son in Mariupol."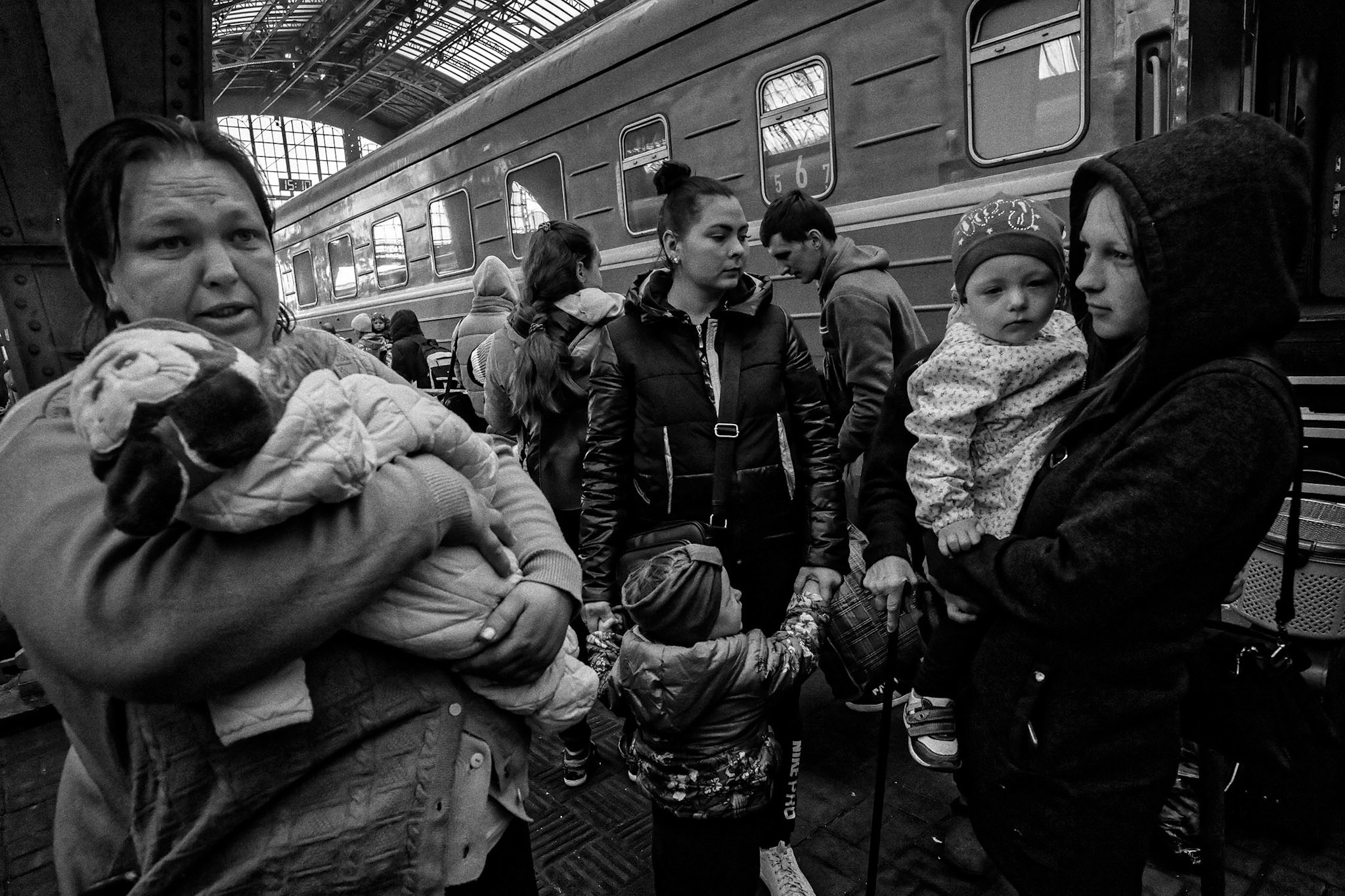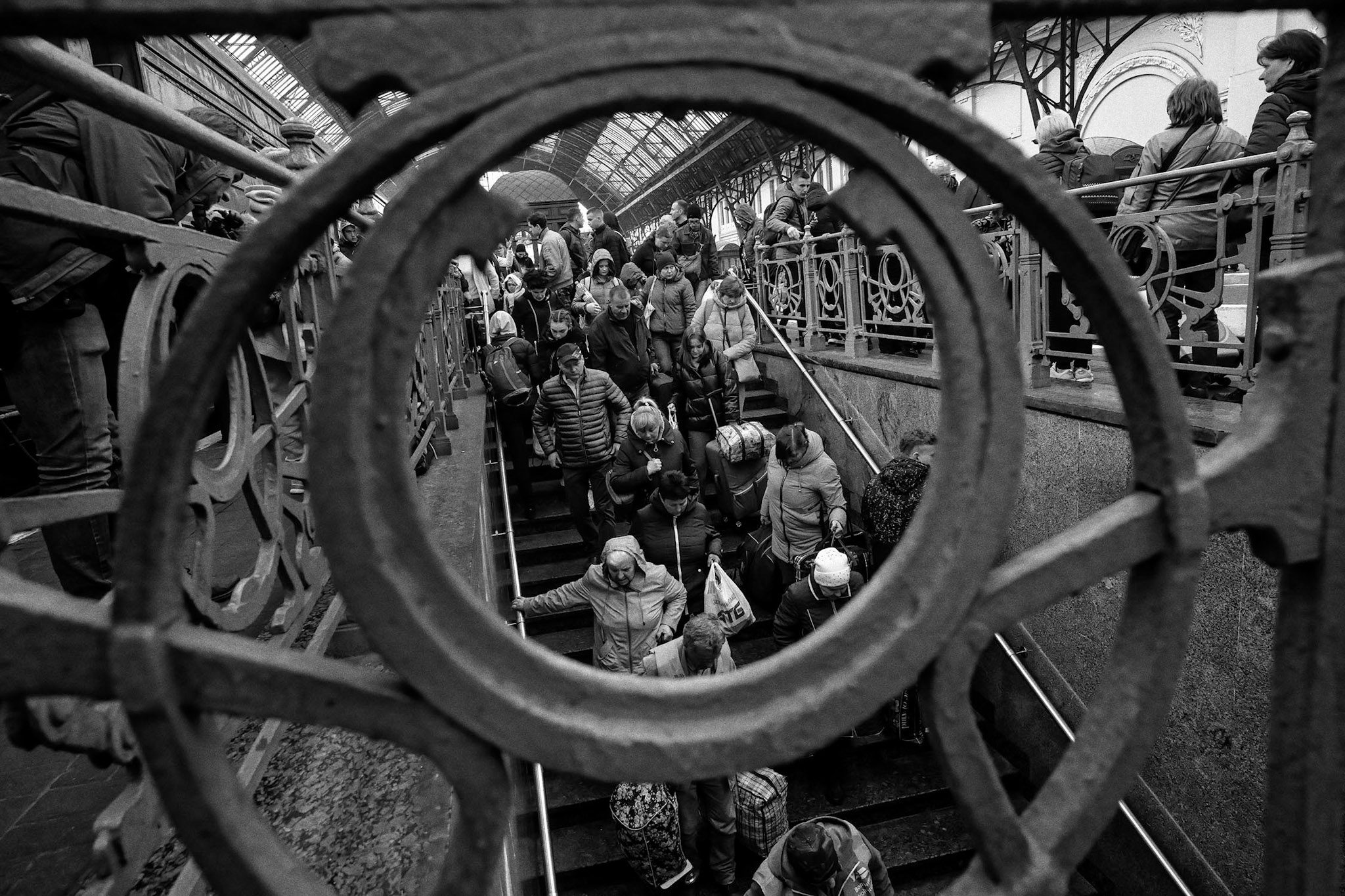 007 Lviv Sean Sutton©                                                                      008 Lviv Sean Sutton©    
People arrive at Lviv railway station after a long night travelling from Zaporizhzhia. Lena (left) fled with her family from Orikhiv, which is southeast of Zaporizhzhia close to the front line "The town has been mostly destroyed with bombs landing every day. The explosions bow in the windows and the doors. We have small children, and we couldn't cope. The children couldn't sleep, and we were all terrified. We are all so stressed.
The train was damaged by Russian rockets soon after leaving Zaporizhzhia as Serhi, the train manager, explained: "It was the most difficult day in my career. We left at 12 mid-day and just arrived here at 3:30 pm the next day – more than 27 hours later. Soon after we left as we were crossing the bridge to Khortytsia island, two missiles exploded. The blast took out many windows and did a lot of damage, but because we always have the blinds down, no one was injured. It was a miracle. Four of the carriages had to be changed at the next station."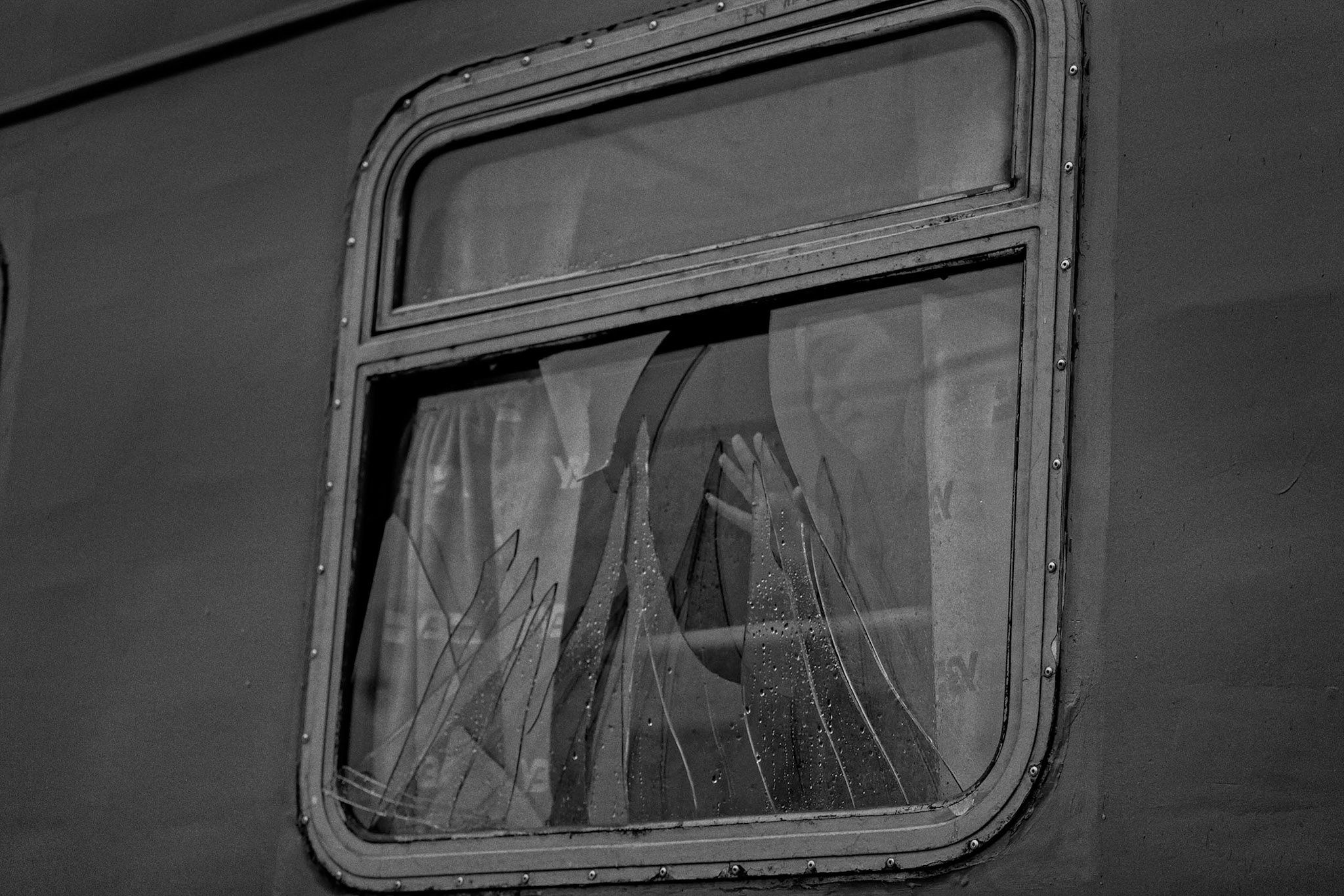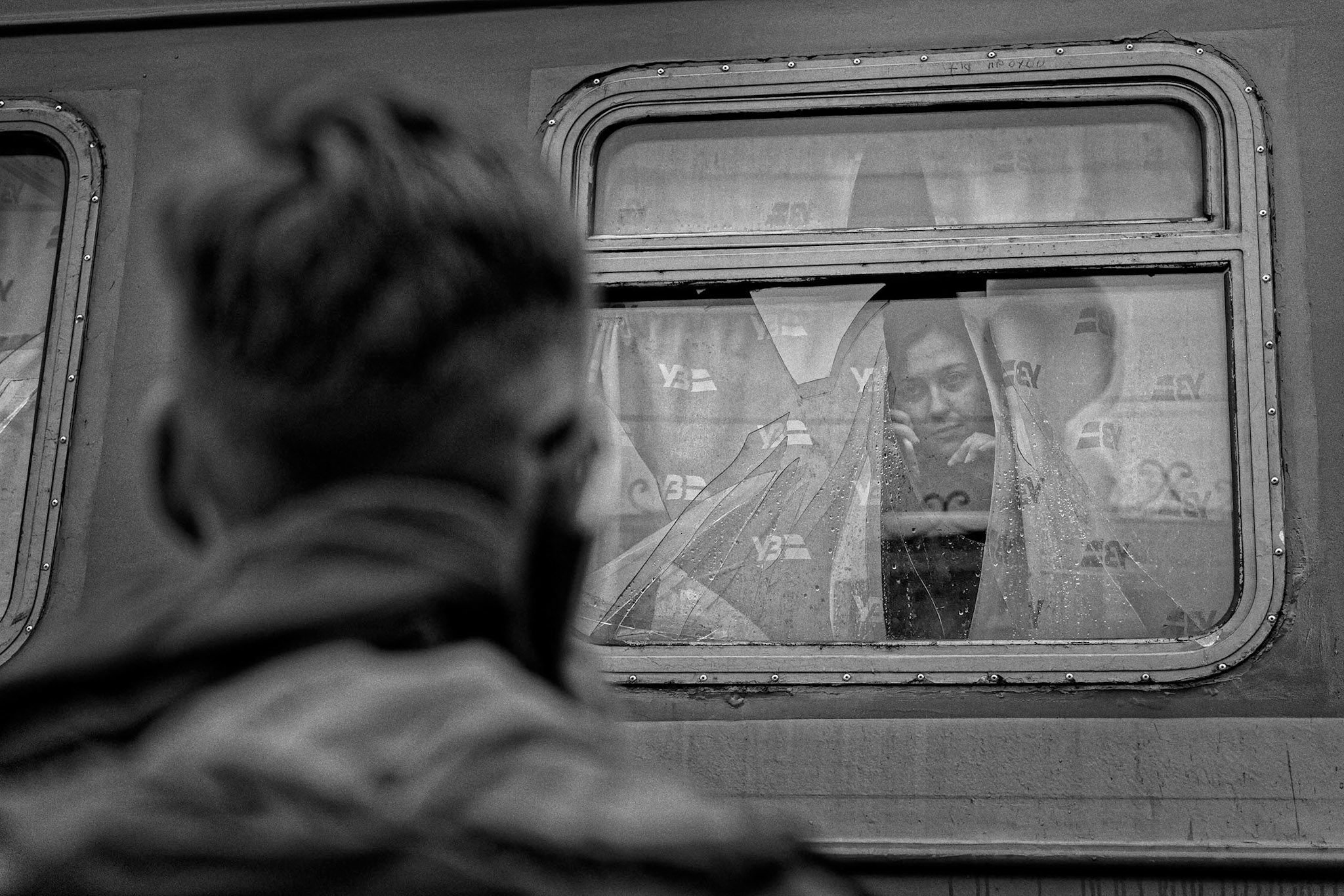 009 Lviv Sean Sutton©                                                                       010 Lviv Sean Sutton©  
Valeriy says goodbye to his girlfriend who is leaving Ukraine and heading for Poland. The train had been damaged by cruise missiles near Zaporizhzhia.
Bodoryanka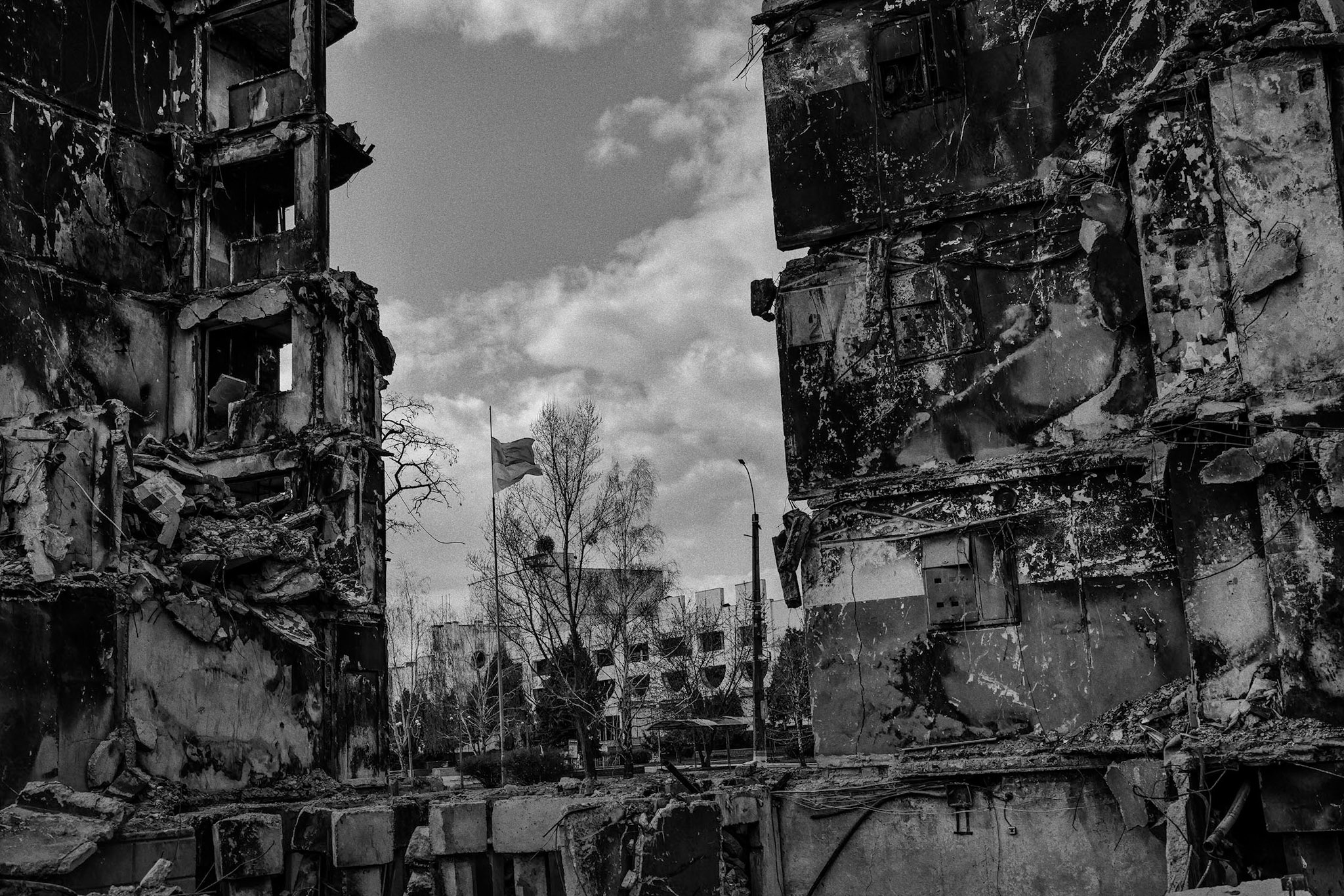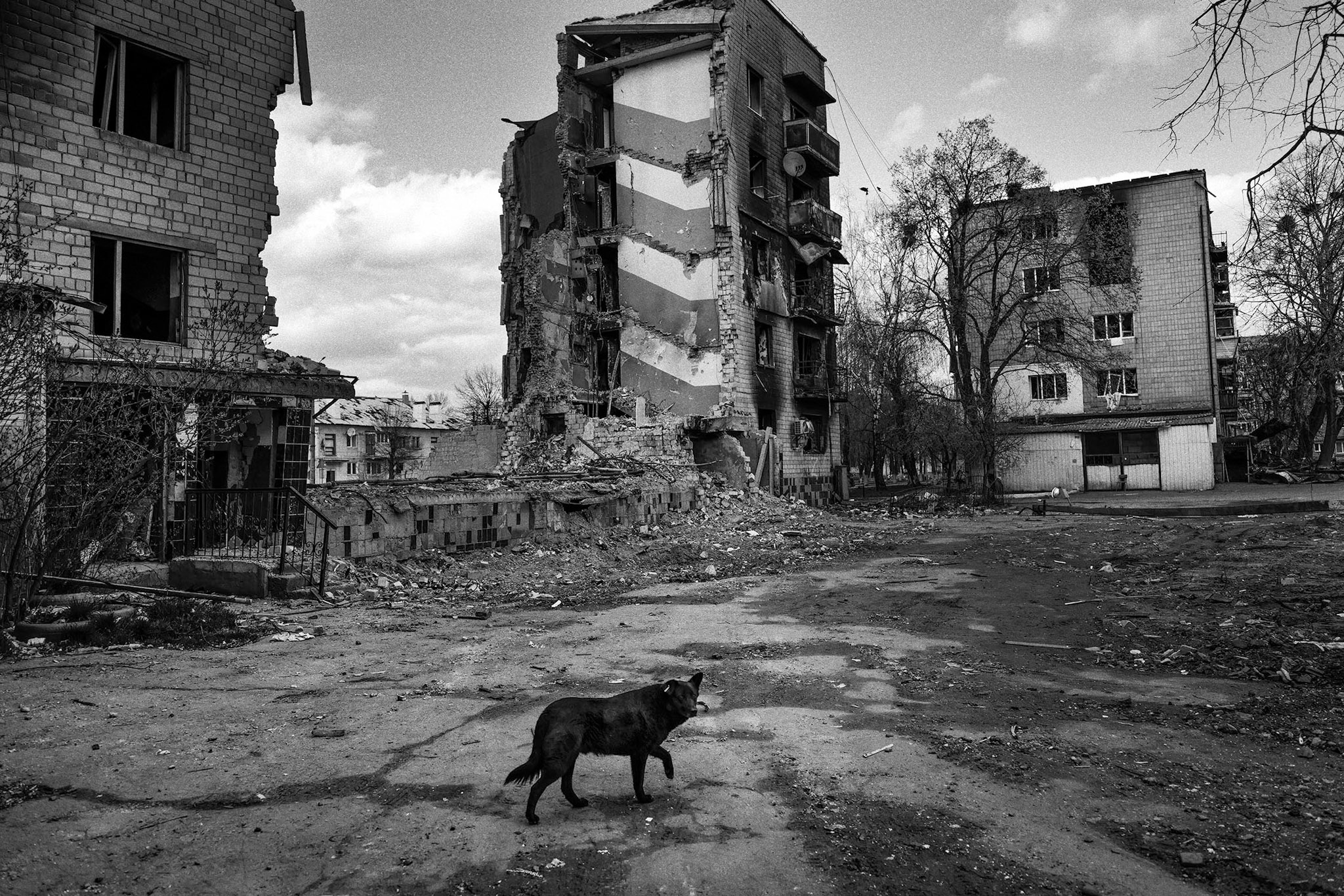 019 Bodoryanka Sean Sutton©                                                      022 Bodoryanka Sean Sutton©  
Large areas of Bodoryanka were destroyed during intense and sustained bombardments.
Andriivka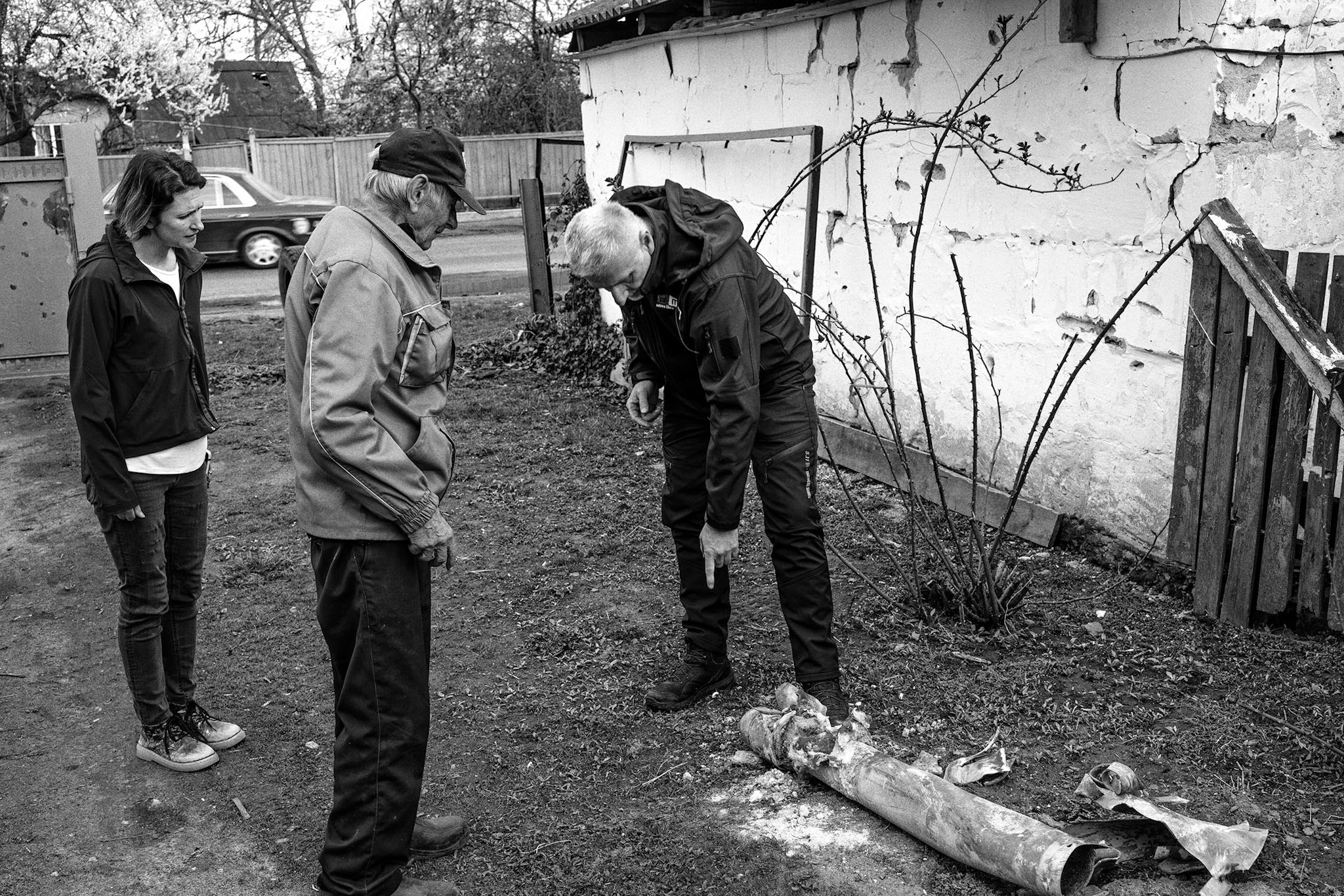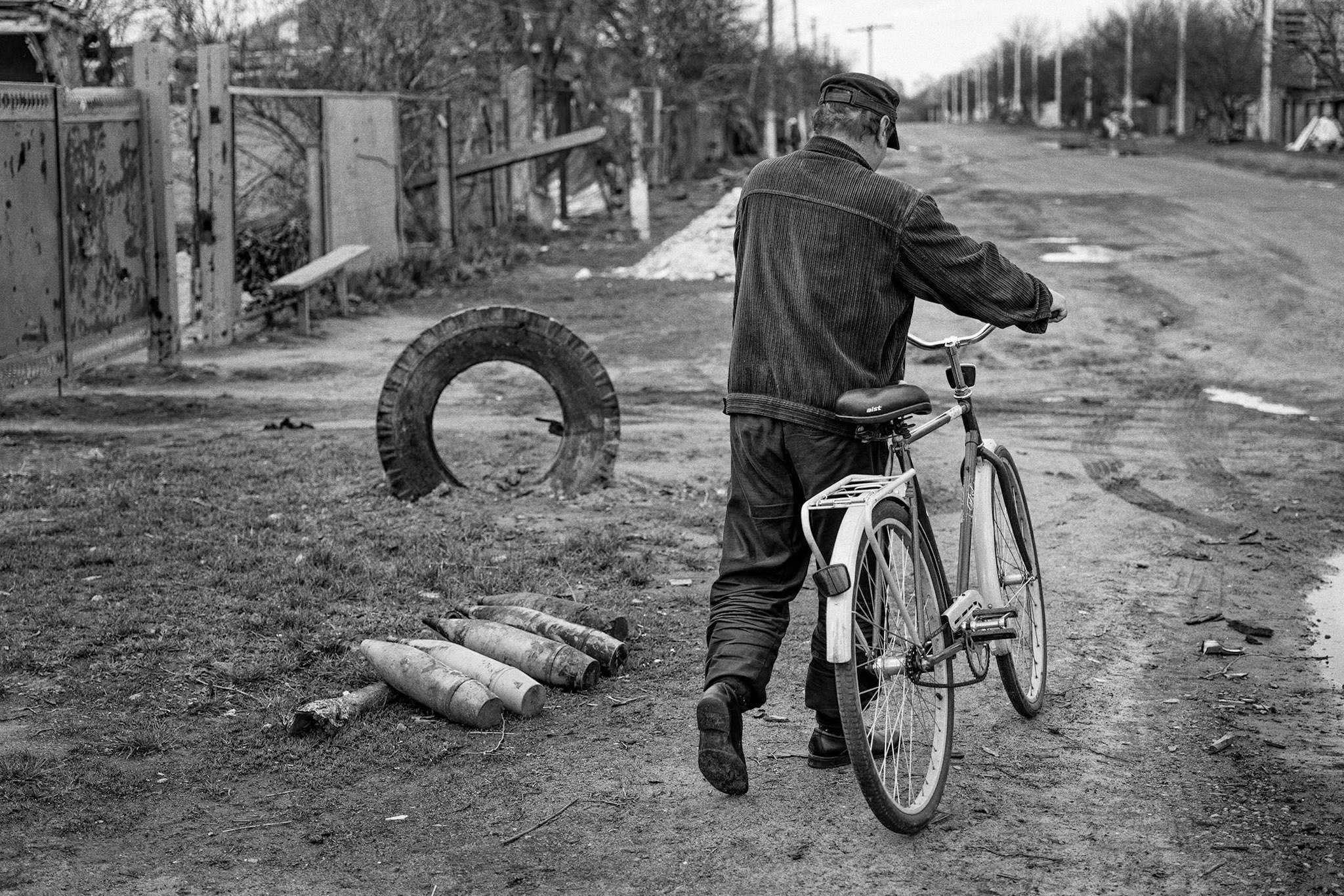 025 MAG in Andriivka Sean Sutton©                                                  027 Andriivka Sean Sutton©
The village of Andriivka was occupied by Russian forces for 35 days. The main road linkimng Bodoroyanka to Markeridge runs through it. Tanks were positioned between the houses on one side and Grad rocket launchers between the houses on the other side. "Different groups of Russians stayed here." Explained Grigory, one of the villagers, "Some were OK, others were not. Some people managed to leave before they came here. 40 of us survived – we are all over 50.  People were killed by the Russians in the village or the shelling - we have lost 53 people that we know of. One woman searched for her husband for two weeks. She just found him in their garden buried with his hands tied behind his back. It was terrible."
"They came with nothing – no food and little ammunition. They wanted alcohol most of all. They became very angry when they realised their 60,000 Rubel salary was worth less because of the sanctions. They were only there for the money. They didn't know that they were coming here to fight. They thought they were just coming on an exercise.
"A few days before they left, they started packing everything from the village – they took everything. The soldiers took 10 6X6 Ural trucks to a field nearby and unloaded all their grad rockets. They blew them up in a big explosion and then filled them with washing machines and everything else. I asked one of the soldiers where he was going to take a washing machine. 'To my house' he said. "Do you have any water in your house" I asked. "No" he said." "So how will you use the washing machine?" I asked him, "I will bring a bucket of water and put it in." He said. They had never ever used a washing machine or a toilet. They had no idea. They just went to the toilet on the floor."
Peremoha Village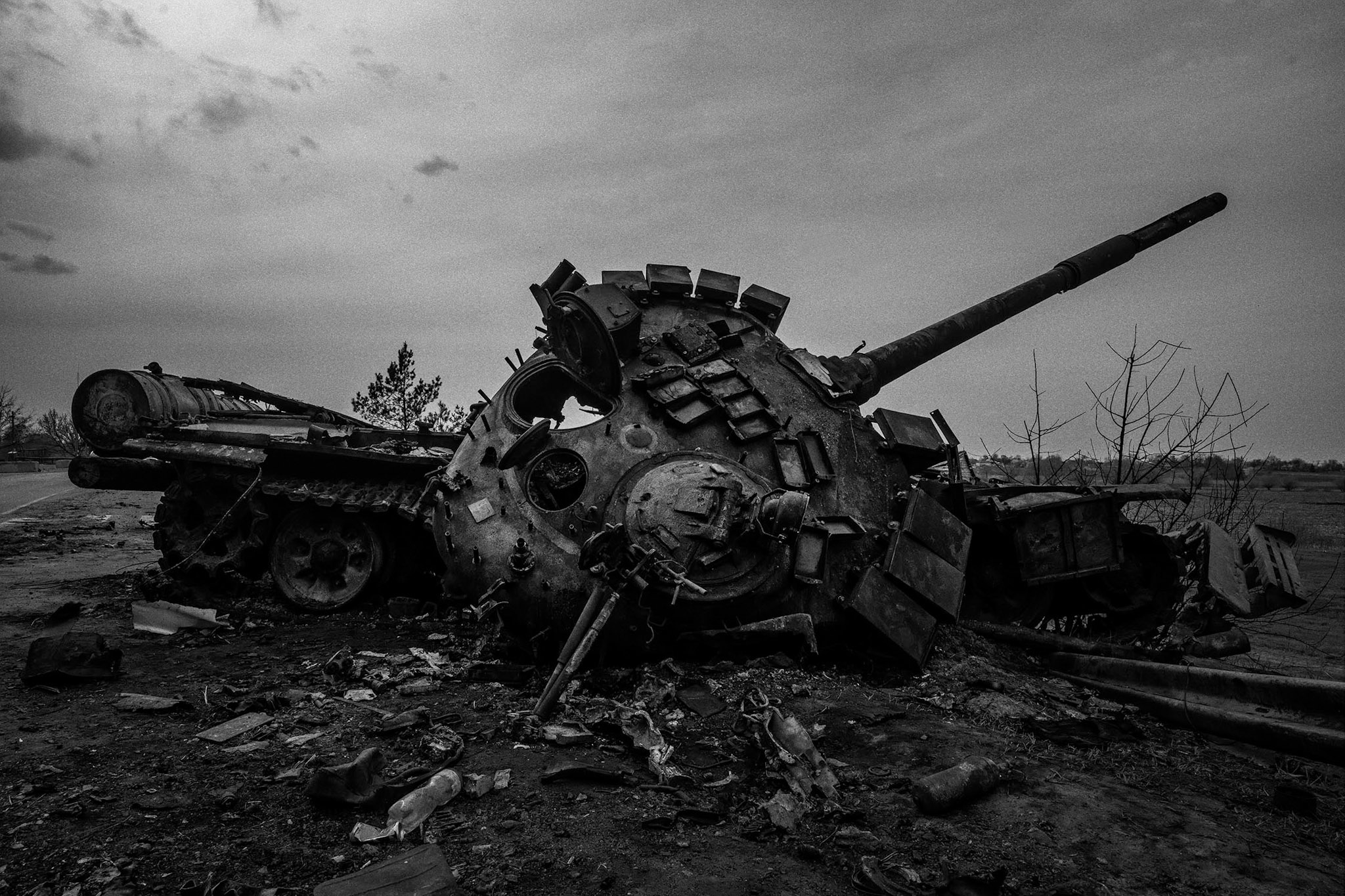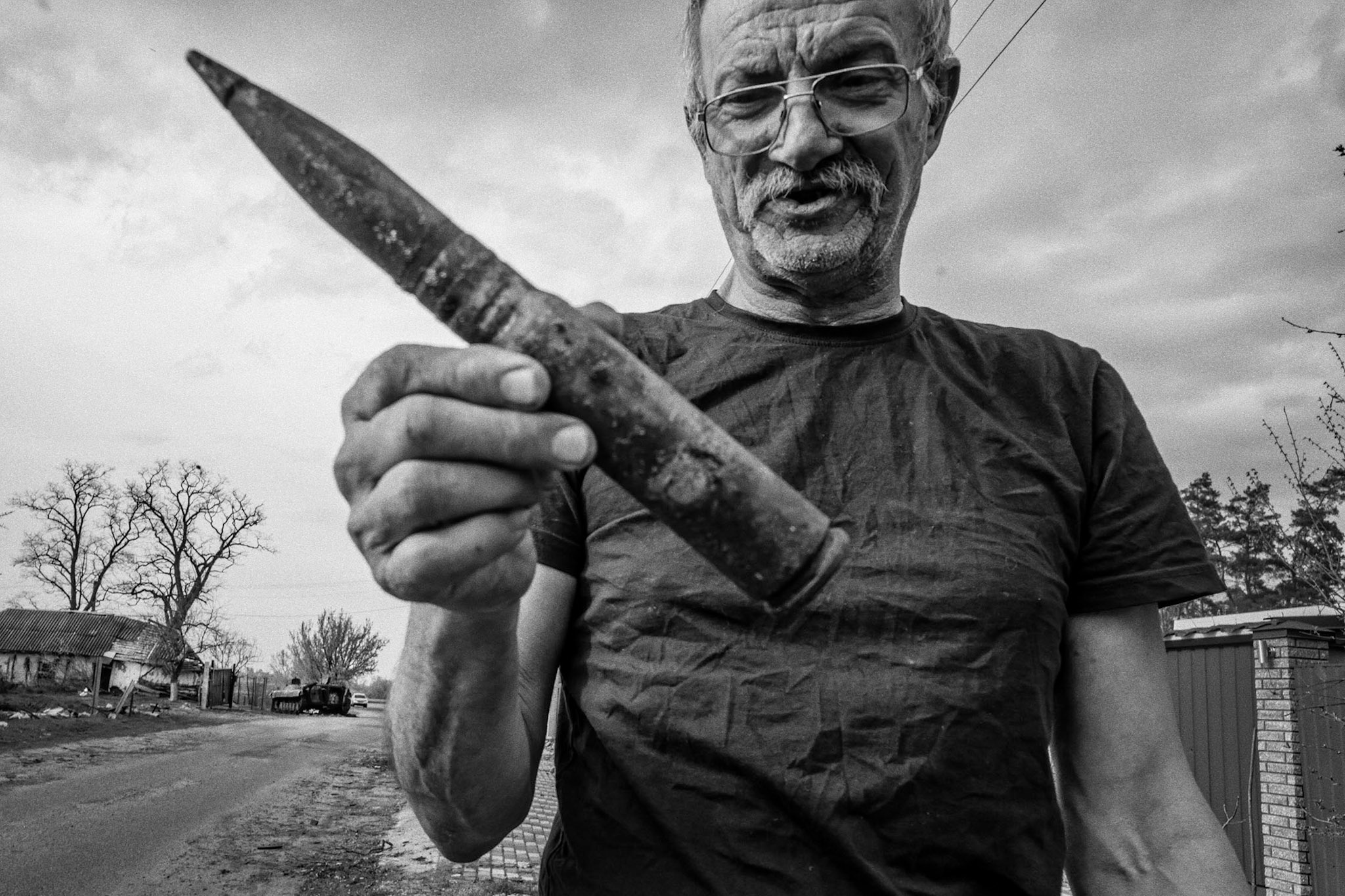 044 Peremoha Sean Sutton©                                                             047 Peremoha Sean Sutton©  
Peremoha village is situated east of Kyiv and is positioned close to a small river and was named Peremoha which means 'victory' in English, because of the military successes here in World War 2. The same happened again explained Viktor who remained in his village throughout the time of Russian occupation. "I watched everything," he said, "They came with great force three times to try and cross the river. But they were repelled by the Ukranian heroes three times, the last battle was on 9 March. Many tanks and BMPs were destroyed. There were Russian bodies everywhere and pieces of blooby clothing. One young soldier called Zhenya, or Khak for short, is now a hero. He destroyed four tanks, three with Javelin missiles and one with a Kornet missile. When the tanks exploded parts fell all over the village – everywhere, boom, boom, boom. I used to hide in the grass and watch."
"The Russians put many mines in the village, even in the cemetery. Several deminers died here. One hit a mine in his jeep then the next day another died. It was terrible."
Kyiv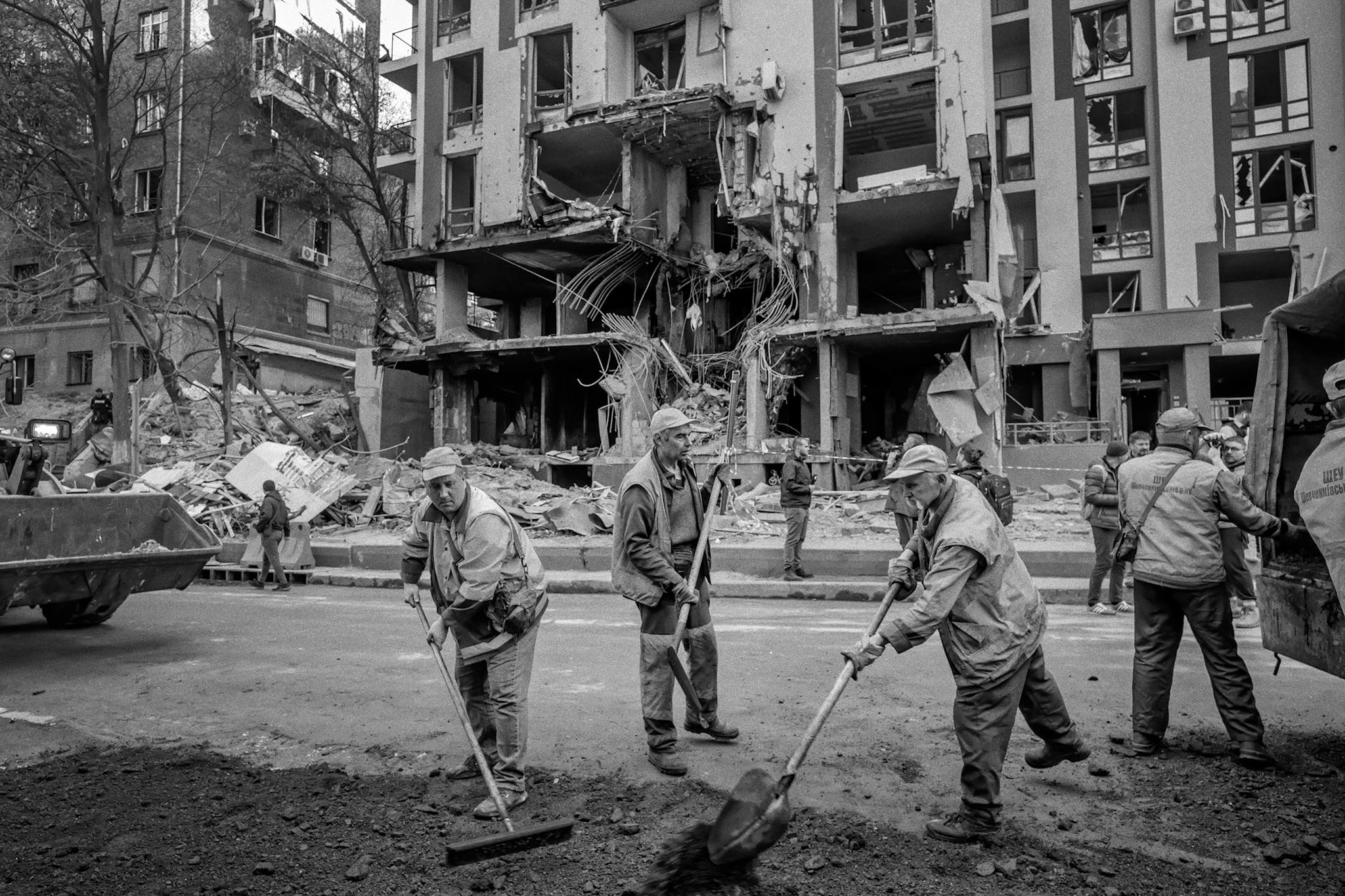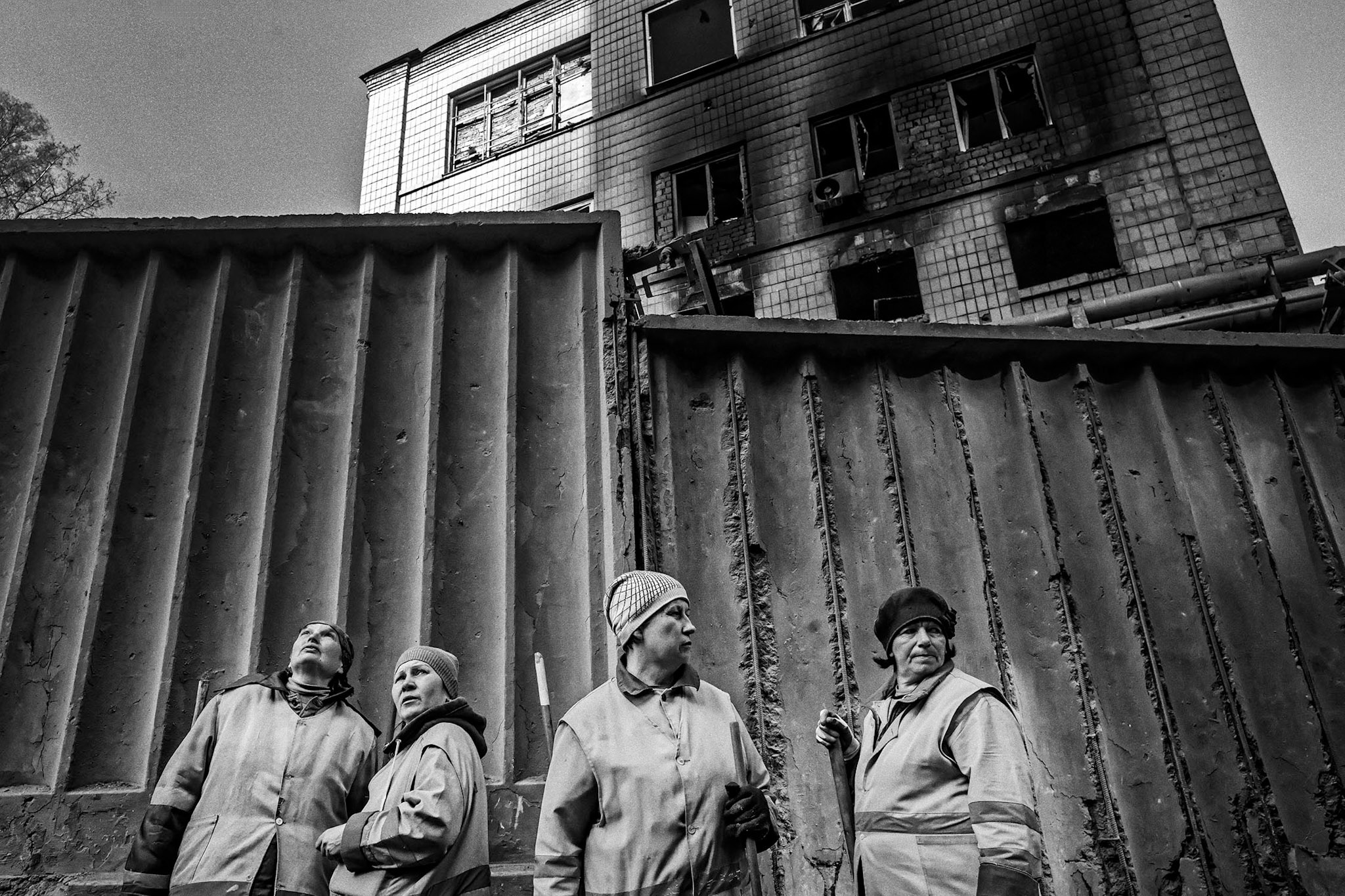 090 Kyiv Sean Sutton©                                                                         091 Kyiv Sean Sutton©  
Two cruise missiles landed in the night in Kyiv killing a renowned Ukranian journalist and injuring a number of people.
Svitylna Village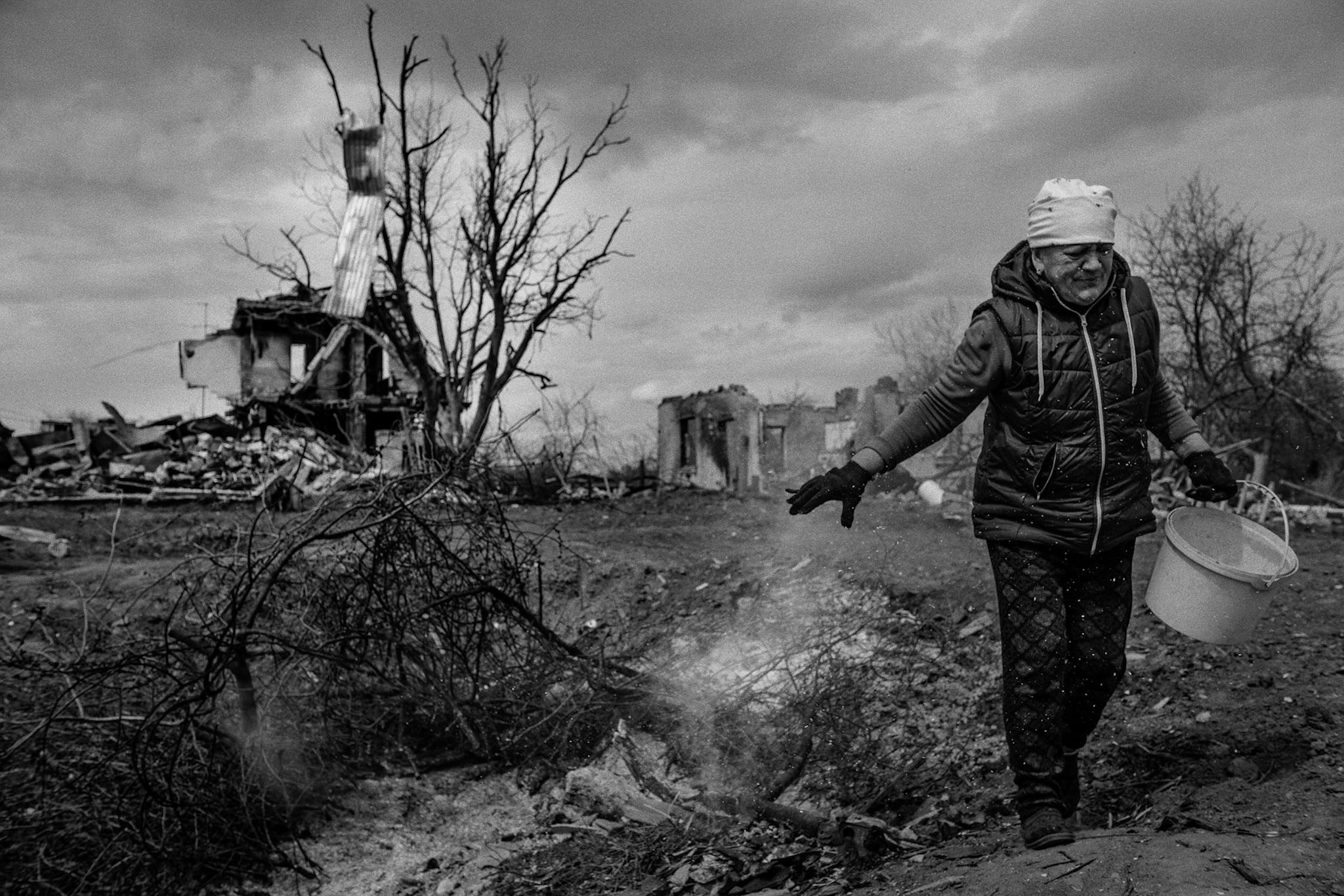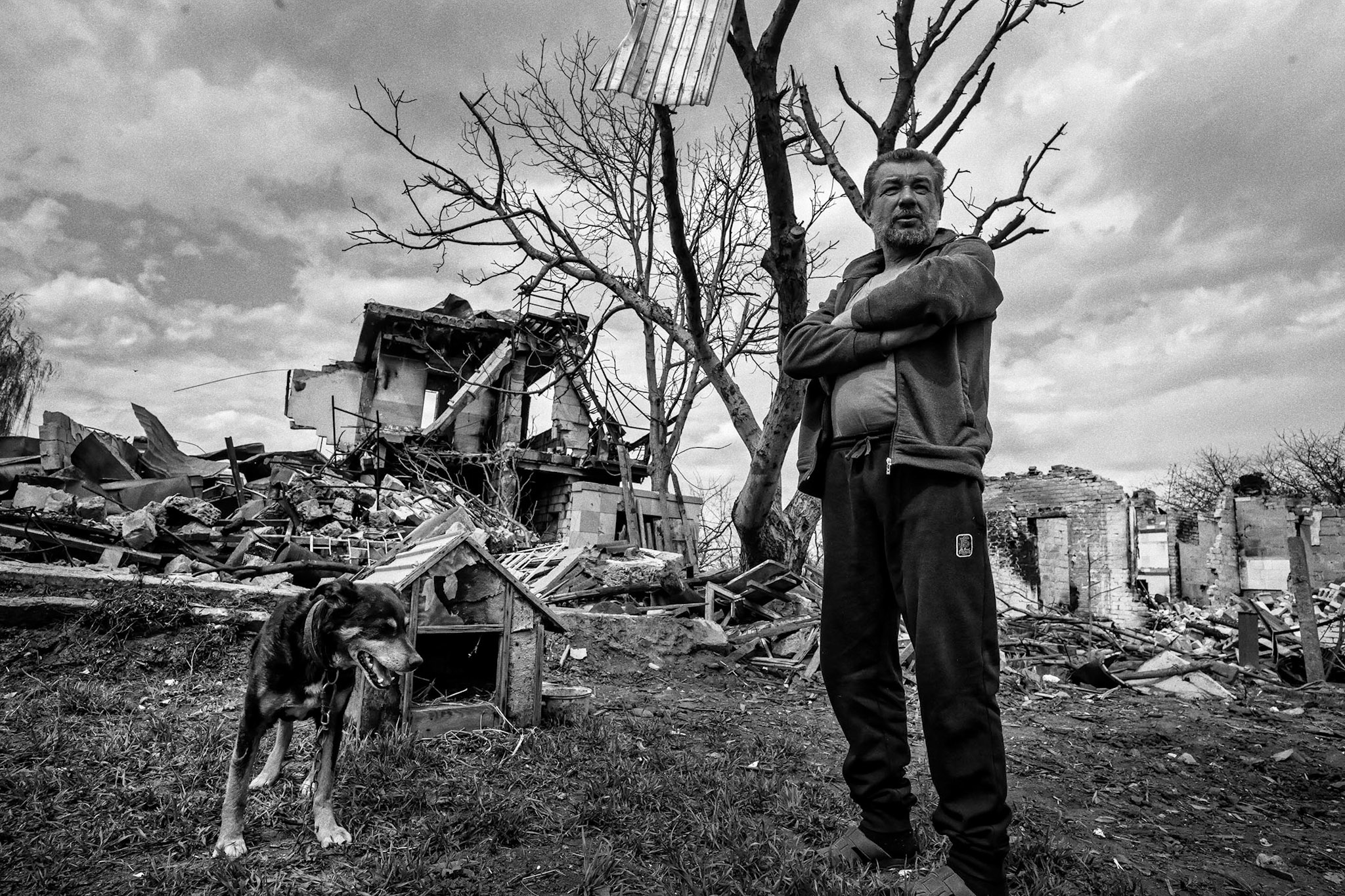 096 Svitylna Sean Sutton©                                                                 098 Svitylna Sean Sutton©  
Russian soldiers had a Grad muti barrel rochet launcher positioned near Viktor's house. It was damaged by Ukranian shelling and the Russians were trying to fix it when they were ordered to retreat from the area. They warned the villagers to keep away from the area early in the morning of 30 March and then blew up the launcher to stop it falling into Ukranian hands. "There were five rockets still in the launcher when they blew it up," Explained Viktor, "The explosion destroyed five houses. How could they do that? There was no reason. They said that it was the Ukranian Army's fault for damaging it, so the villages should suffer. My mother was injured and is still in hospital with leg injuries. I spent 10 years building my house and I am a pensioner with nothing. What can I do? The authorities say there will be no compensation until after the war."
The village had suffered a lot during the conflict. "There were tanks placed between the houses and they fired all the time. There were four groups. The first three were OK but the fourth were dirty and nasty. They killed our animals and took our food. They have planted landmines near here. In Hrebbelky village, deminers cleared landmines from the area and told people it was safe. But after they let the cows but two of them died. It wasn't safe at all. They didn't find all of them obviously."
The picture on the right shows Viktor with Dick the dog. Dick is in a terrible way. He is timid, withdrawn and shaking. He has two large open wounds on his body. Viktor explained that they dug him out of the rubble that was their house. It is amazing he survived. 
On the left is Tanya who also lost her house in the explosion. 
Irpin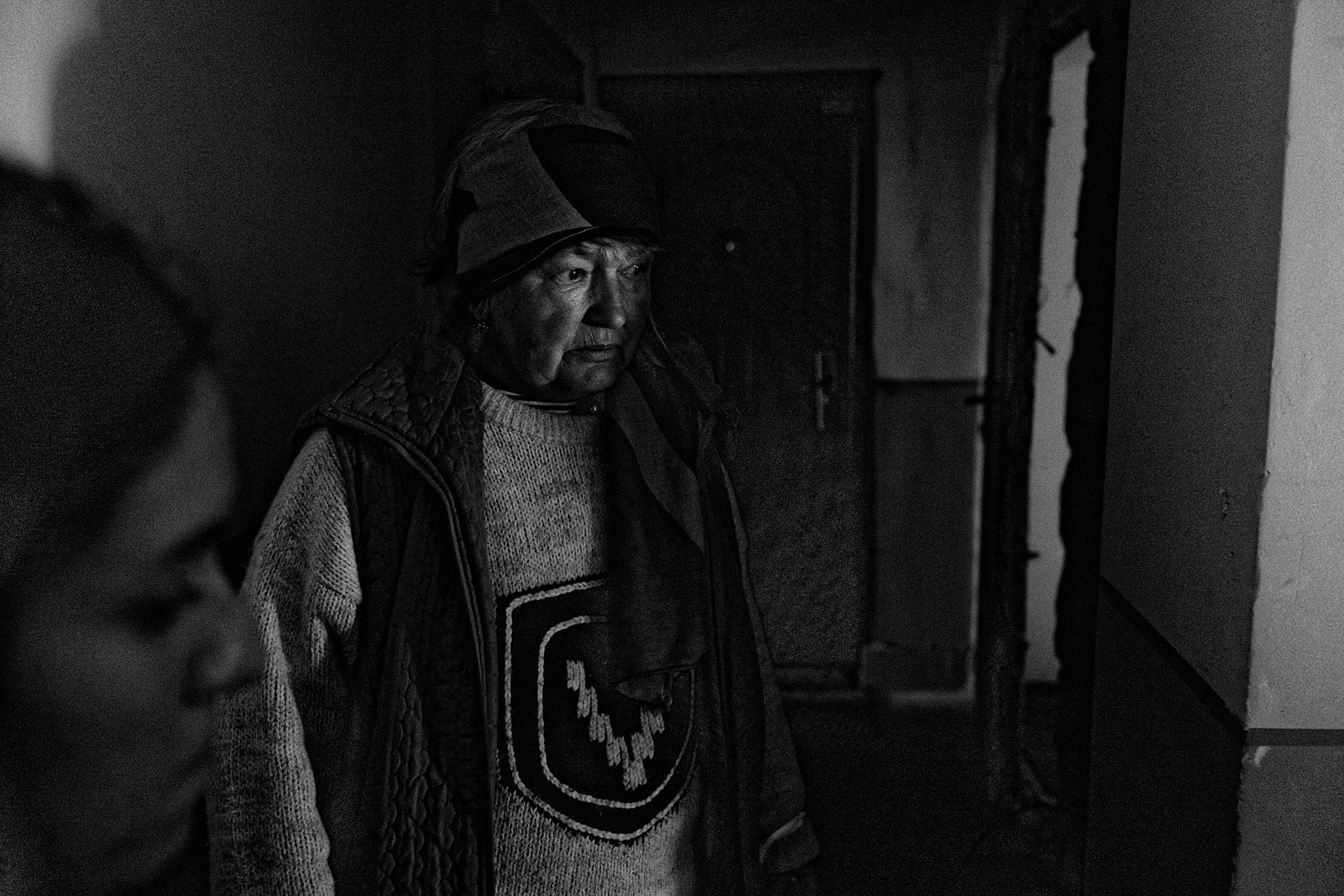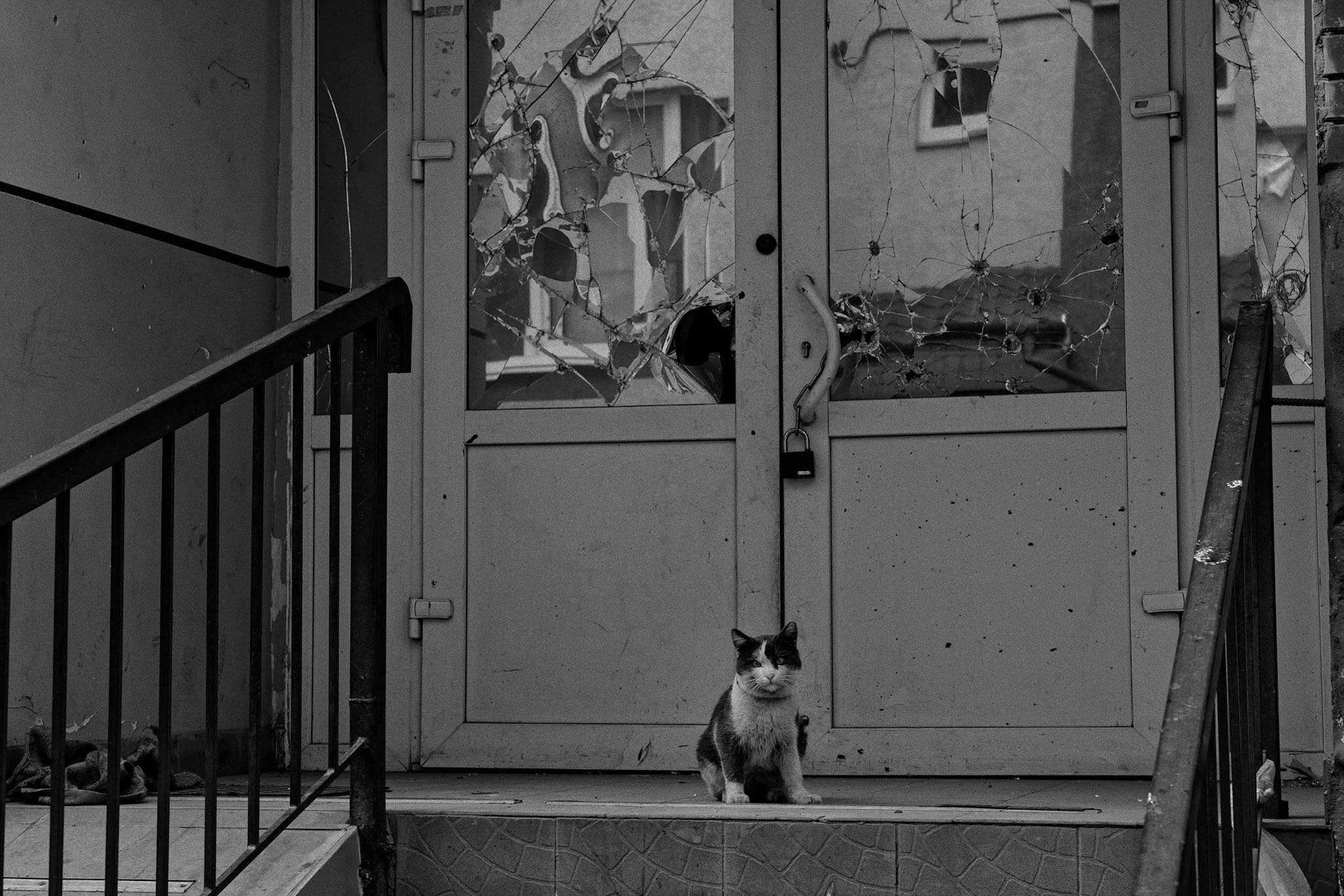 104 Irpin Sean Sutton©                                                                       108 Irpin Sean Sutton©
Lindila and Tatiana came back to their flats in Irpin yesterday."We were worried about the cats, we didn't know if they survived but thankfully they did. We fled when the building next to us was hit killing many people. All our windows were blown out and we fled in terror. Bodies and flames everywhere. "Our flats are damaged but ok but in a neighbours flat there is something suspicious." Through the crack of a blast-damaged door a hand grenade can clearly be seen. It has been placed on top of a large water dispenser. It could be a booby trap. Maybe the water container has something other than water in it? The authorities have been informed and hopefully it will be dealt with soon. Booby traps have been widely reported in areas previously controlled by Russian forces.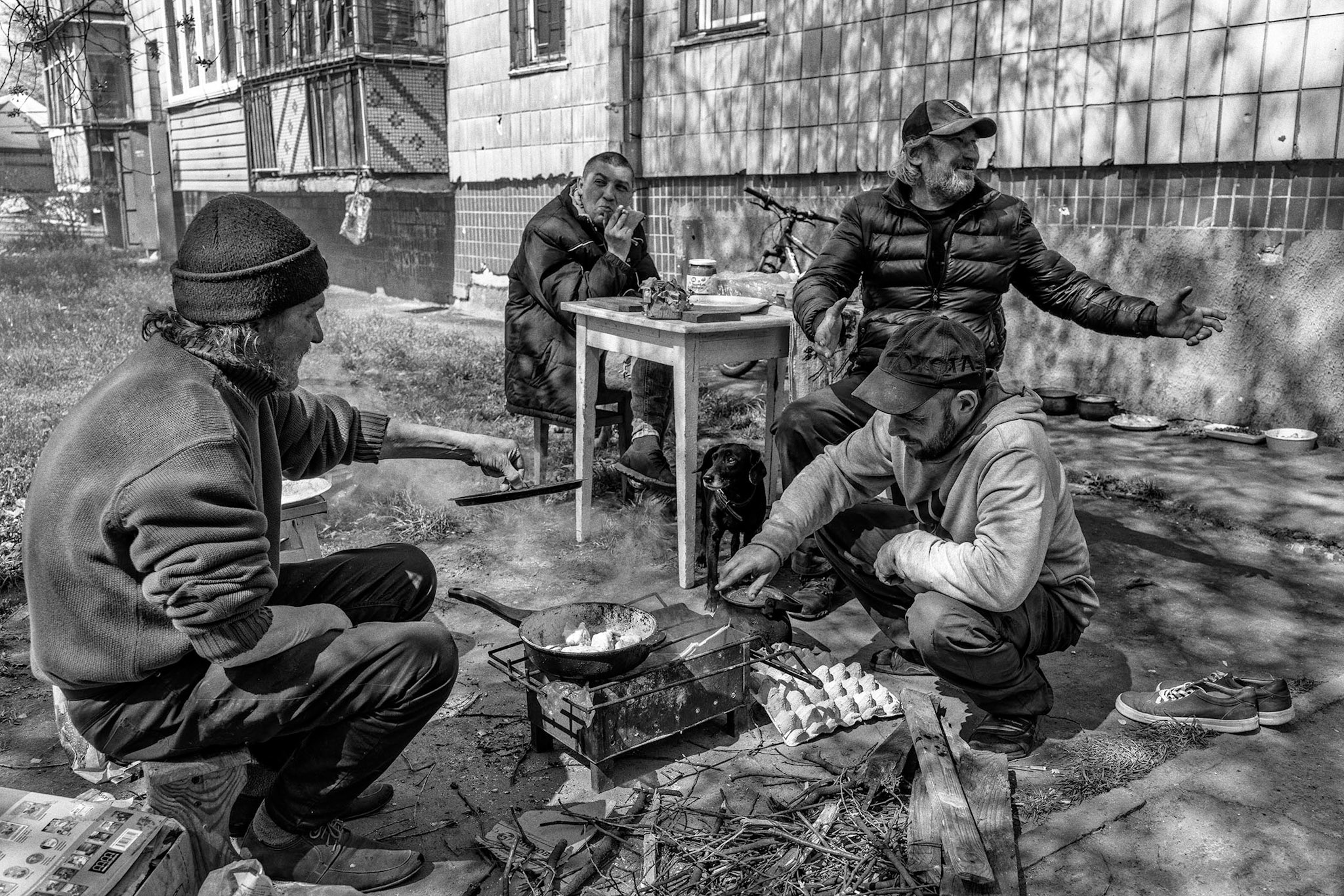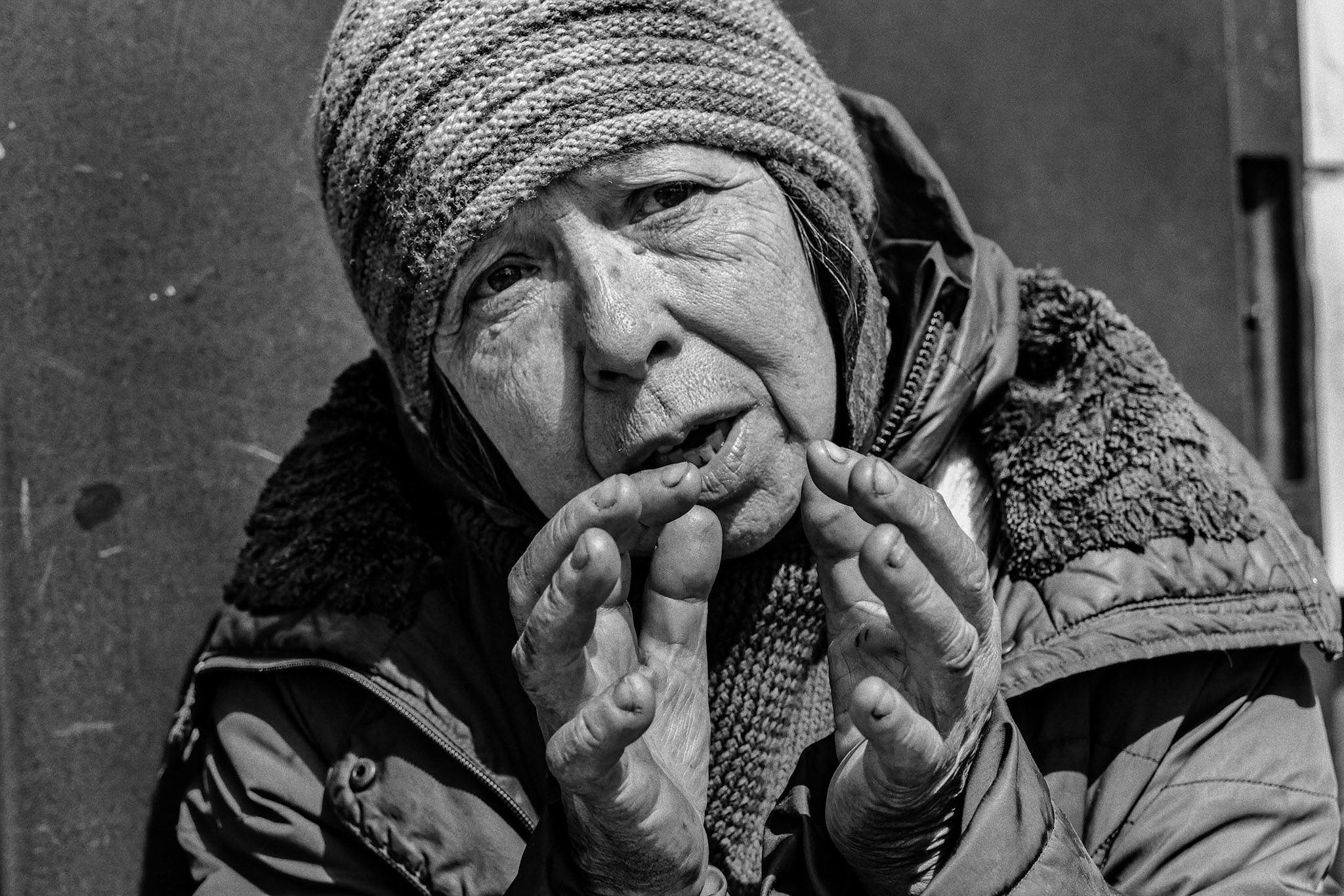 110 Irpin Sean Sutton©                                                                      111 Irpin Sean Sutton©
Galina with her friends outside their flats. The other side of the building is completely destroyed. "We are survivors. Five of us stayed here during everything. It was terrible. Many died. Our building was repeatedly hit. Now we survive on the little food we have. There is no electricity, no water. We cook outside and collect river water. That's how we survive. We couldn't leave because of the animals without us they couldn't survive. So we stayed. Before we were neighbours – but now we are family."
For more of Sean's work please follow the links below.
Links
Sean Sutton: https://www.seansuttonphoto.com
Instagram: @seansuttonphoto
Article: MEN on Ukraine https://www.manchestereveningnews.co.uk/news/greater-manchester-news/booby-traps-buildings-missing-teeth-24115582
Cameras: Leica SL2 + Leica M10